UC Davis Health staff sending hearts to cheer each other up during COVID-19 fight
(SACRAMENTO)
Jaunty, colorful, slightly-eccentric hearts are appearing on the heads of people in the battle to treat COVID-19 around UC Davis Health and in hospitals across the country.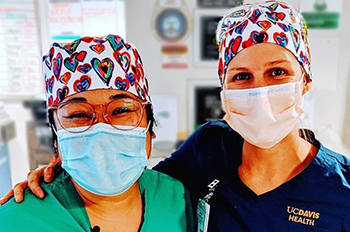 The hearts decorate new scrub hats. They're part of a non-profit project called Protect with Heart started by two local health care workers to offer cheer to other health care workers during the long days of frontline care and work to control the coronavirus. The idea is already popular around the UC Davis Medical Center.
Protect with Heart works simply: Donors can provide personal protective equipment and a bit of color and joy to health care workers by purchasing the scrub caps and having them sent to any group they'd like.
At the medical center, intra-hospital donations are seemingly everywhere. For instance, the Physical Medicine and Rehabilitation Department outpatient physical therapy unit collected $500 within their department and donated a box of 50 scrub hats to the folks in Medical Surgical ICU Gold.
"You made a lot of exhausted ICU nurses very happy," MSICU Gold nurse Jocelyn Spiwak posted in a thank you on Facebook.
In an email, she said the donation worked exactly as intended – it was both touching and uplifting.
"The scrub caps are so bright and cheerful and bring joy into every patient interaction," Spiwak said. "They also serve as a beautiful reminder that we are in this together as we fight the COVID-19 pandemic. To know that the scrub caps were made with love and donated by our very own outpatient PM&R department makes it even more special. It was incredibly thoughtful."
The cheerful hats were designed by local artist Tim Collom and come from Annie & Isabel, a designer of equally cheerful hospital gowns. Local nurses and sisters Anna Ryan and Selena Srabian co-founded Annie & Isabel and used their gown manufacturer to make the scrub caps.
Through them, Protect with Heart has sent caps to San Francisco, Los Angeles, Boston, New York, Texas, Florida, New Orleans, the Navajo Nation and across Northern California. And lots are showing up around UC Davis Health.
Along with the PM&R gifts, other donations include:
A box of 50 caps from a local businessperson for the UC Davis Emergency Department.
Mark Belber, an operating room nurse in the medical center, donated a box of 50 scrub hats to co-workers in the OR.
UC Davis Health pediatric nurse Amy Kuzmich and her husband sponsored 50 scrub hats to the East 4 medical/surgical unit which treats some COVID-19 patients.
"It's really a great project," Kuzmich said. "We knew we wanted to keep the hats local and within the UC Davis Health family. It's been wonderful to see the hats worn all over the country. It's a reminder that no one unit or hospital is in this fight alone."