UC President Michael Drake on campus to help induct Eye Center chairholder
Ceremony held to appoint Paul A. Sieving holder of the Neil and MJ Kelly Presidential Chair in Vitreoretinal Science
(SACRAMENTO)
Paul A. Sieving, an internationally renowned physician, vision scientist and thought leader in eye care, was inducted Sept. 17 as the inaugural holder of the UC Davis School of Medicine Neil and MJ Kelly Presidential Chair in Vitreoretinal Science during a ceremony on the UC Davis Health campus. The medical specialty focuses on diseases of the retina and fluid that supports the function of the eye.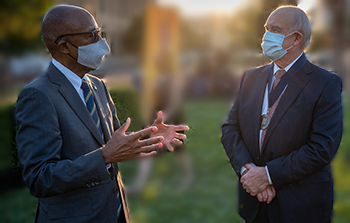 Speakers for the event included fellow ophthalmologist and University of California President Michael V. Drake, UC Davis Chancellor Gary S. May, Vice Chancellor of Human Health Sciences and CEO for UC Davis Health David Lubarsky, Dean of the School of Medicine Allison Brashear and Professor and Chair of the Department of Ophthalmology Mark Mannis.
The event celebrated the generosity and vision of Neil Kelly, M.D. and his wife MJ, which established the presidential chair in vitreoretinal science.
"Going from A to A+ is enabled by thoughtful and generous donations such as this," said President Drake. "With this great endowment, the UC Davis Eye Center will bridge from outstanding to best in the world."
Chancellor May agreed, "I'm incredibly proud of the work being done here to prevent and cure eye disease through advanced research and care, and the Kelly Presidential Chair will advance the Eye Center's mission for an even greater future."
Sieving is a professor of ophthalmology at the Eye Center. He specializes in identifying the genetic causes of blinding, inherited diseases of the retina and macula, and bringing gene and cell therapies to patients.
"This truly exemplifies UC Davis Health prowess in this area of health care and it's truly a game changer," said Vice Chancellor and CEO Lubarsky. "I want to deeply thank Neil and MJ Kelly, whose generosity and wisdom made this opportunity possible."
Career of innovation in ophthalmology
Sieving was the Paul R. Lichter Professor of Ophthalmology at the University of Michigan from 1985 to 2001. He moved to the National Institutes of Health in 2001, as Director of the National Eye Institute (NEI), with a budget of $700 million. He is known for the signature program, the NEI Audacious Goals Initiative in Regenerative Medicine, to rescue or repair diseased retinal cells that underlie vision loss.
"Going from A to A+ is enabled by thoughtful and generous donations such as this, With this great endowment, the UC Davis Eye Center will bridge from outstanding to best in the world."
— President Michael Drake
Sieving joined UC Davis in 2019. His concept for translational vision science at UC Davis incorporates the unique skill sets and unique combination of resources available UC Davis through the School of Medicine and Veterinary Medicine, the Institute for Regenerative Cures, and the California National Primate Research Center and strong clinical colleagues.
"I am pleased and honored to serve as the Kelly Presidential Chair," said Sieving. "Our task is to generate the new knowledge today that heals patients in the future."
Sieving is establishing the Center for Ocular Regenerative Therapy (CORT), a clinical and research center that will position UC Davis to be an international leader in efforts to understand and treat vision-limiting conditions of inherited retinal degenerations. The new CORT clinic will provide care for patients with genetic retinal diseases, and the research side will explore gene and cell transplantation therapies for disorders that, until now, have had no effective treatment.
As a clinician, Sieving is a retinal specialist with a focus on treating diseases of the retina, particularly the inherited retinal degenerations. He is the author of more than 250 peer-reviewed publications and has received many honors and awards, including election to membership of both the U.S. National Academy of Medicine and the German National Academy of Sciences.
Generosity and vision of Neil and MJ Kelly
Established in 2017 through a generous gift from MJ and Neil Kelly, the endowed chair supports the development of new approaches for the prevention and treatment of blinding eye disease originating in or related to the retina. Kelly was the first resident to graduate from the UC Davis Department of Ophthalmology & Vision Science, finishing his residency in 1972.
"As one of the nation's leading academic research institutions, one of our greatest strengths is bringing our research breakthroughs to the bedside to improve the health of our patients and everyone in our community," said Dean Brashear. "Generous support from our UC Davis School of Medicine alumni helps make this possible."
Kelly went on to have a distinguished career in ophthalmology, becoming the first physician in the world to perform macular hole surgery, among many achievements.
"When I reflect on Neil and MJ, and their many accomplishments and contributions, I am reminded of a quote from Albert Einstein: 'Try not to become a person of success, but rather try to become a person of value,'" said Eye Center Chair Mannis. "These are two individuals who are driven by a desire to have a meaningful impact on the lives of others, and never by a need to be acknowledged for their success."
UC Davis School of Medicine
The UC Davis School of Medicine is among the nation's leading medical schools, recognized for its research and primary-care programs. The school offers fully accredited master's degree programs in public health and in informatics, and its combined M.D.-Ph.D. program is training the next generation of physician-scientists to conduct high-impact research and translate discoveries into better clinical care. Along with being a recognized leader in medical research, the school is committed to serving underserved communities and advancing rural health. For more information, visit UC Davis School of Medicine at medschool.ucdavis.edu.