About Amparo Villablanca, M.D.
The Advancing Leadership Across the Health Sciences program is directed by Amparo Villablanca, M.D. Villablanca is a professor of cardiovascular medicine and holds leadership positions as director of the Women's Cardiovascular Medicine Program and the Frances Lazda Endowed Chair for Cardiovascular Medicine.
Known as a change leader for her commitment to faculty development, equity, diversity, leadership and academic scholarship, Villablanca brings many years of experience at UC Davis Health to the directorship of Advancing Leadership Across the Health Sciences. She attended the Association of American Medical Colleges (AAMC)'s leadership training programs and is a graduate of the Executive Leadership in Academic Medicine (ELAM) program for women.
She also helped establish the UC Davis Health's faculty development, mentoring and diversity programs, and was the founder and director of the Women in Medicine and Health Sciences (WIMHS) program, which in 2017 was the recipient of AAMC's Group on Women in Medicine and Science national leadership award.
She also served as Institutional Co-Principal Investigator of one of 14 National Institutes of Health's Research Project Grant (R01s) on careers in biomedical sciences.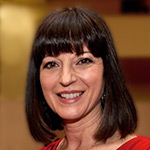 Director, Advancing Leadership Across the Health Sciences
avillablanca@ucdavis.edu
Making room for diverse leaders…
Leadership — the skills and ability to articulate a bold vision, excite broad support, and effect transformational change — requires training and opportunity. "Making room" for diverse leaders requires system change, intentionality, and establishing a leadership pathway and pipeline.
We look forward to helping health science trainees and faculty who aspire to leadership to gain the skills and opportunities to succeed in their leadership goals.
— Amparo Villablanca, Director, Advancing Leadership Across the Health Sciences