Leadership Development Programs
A quick glance
Our programs provide opportunities for faculty to develop and enhance their leadership skills, gain insights from accomplished leaders and engage with each other in a supportive environment. We offer varying programs to meet the diverse needs of all faculty members in the health sciences, including underrepresented populations, giving them the tools, mentoring and peer support they need to advance their careers at UC Davis Health.
Help navigating your opportunities
Learn more about our leadership programs and their distinctive offerings:
---
Navigating Your Leadership Pathways
Advancing Leadership Across the Health Sciences
This program serves as a leadership innovation hub for medical trainees and faculty in the schools of medicine and nursing at UC Davis Health and seeks out opportunities for faculty at all levels, from early- and mid-career to senior-level careers.
Leadership development opportunities focus on pathways for leadership growth through external offerings like the year-long Executive Leadership in Medicine (ELAM) fellowship for women, and leadership development seminars for women and minority faculty available through the Association of American Medical Colleges (AAMC).
This program also identifies other innovative leadership programs and the pathways for faculty participation.
---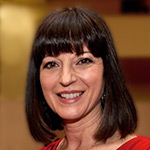 Amparo Villablanca, M.D.
Director, Advancing Leadership Across the Health Sciences
avillablanca@ucdavis.edu
Emotionally Intelligent Leader Program
The mission of the Emotionally Intelligent Leader Program is to increase the emotional intelligence (EQ) and leadership capacity of current UC Davis Health leaders and the potential of future leaders.
The EQ leader workshops are designed for early- and mid-level faculty members. Offered throughout the year, program workshops allow participants to hone their leadership skills, gain insights from accomplished leaders and engage with peers.
Advanced Leadership Development Program (ALDP)
This year-long program was created for mid-level leaders at UC Davis Health who want to develop their leadership abilities to the greatest extent possible.
---
Gene Crumley, ST.D.
Director, Emotionally Intelligent Leader Program
cecrumley@ucdavis.edu
---
It will be faster if I just do it myself!". Haven't we all had this thought and acted on it? Yet, we also took away the chance to learn and grow by tackling a tough project from one of our mentees. How can we delegate effectively while maintaining an appropriate level of evaluation and control?
In this class, we are going to learn how to delegate effectively by learning how to:
Assign responsibility, delegate authority and create accountability
Spot barriers to effective delegation and how to navigate them
Set up a clear process for delegation with the delegate
Develop a communication plan with people we delegate to
This workshop is part of our Emotionally Intelligent Leader Program.
DATES:
November 15 & 22, 2019
(2 parts)
TIME:
Noon to 1:30 pm
(lunch provided)
LOCATION:
Education Building
Room 3207, Sacramento
This three-and-a-half day seminar will afford participants the knowledge and skills necessary to support progress along the path to leadership in academic medicine and science.
Who should attend? Women physicians and scientists holding medical school appointments at the associate professor level, with between 8-15 years experience in academic medicine or science.

UC Davis sponsored opportunity: Yes
Internal pre-selection: Yes

Application: Opens summer 2019. Deadline early fall 2019. Our internal application period opens early August 2019.
View all upcoming Advancing Leadership Across the Health Sciences events
DATE:
December 7-10, 2019
LOCATION:
The Ritz-Carlton, New Orleans
New Orleans, LA