Alumni
Alumni Class Notes
Betty Irene Moore School of Nursing alumni updates
Krystle Banfield, M.S. '14, R.N., C.C.R.N. and Zoey Goore, M.D., M.P.H. '13, F.A.A.P.
Graduate year: M.S.-Leadership '14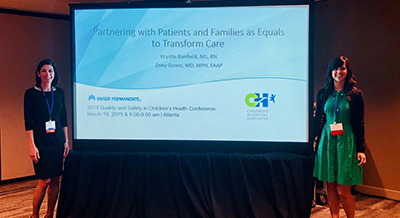 Last March I led a podium presentation at the 2019 Quality and Safety in Children's Health Conference in Atlanta, Georgia. Along with physician partner and UC Davis M.P.H. alumna Zoey Goore, we presented, "Partnering with Patients and Families as Equals to Transform Care." We discussed a new approach, CoDesign, which allows us to incorporate input from patients and their families to make improvements to care at Kaiser Permanente Roseville Women's and Children's Center.
---
Crissi Patel, M.S.N., R.N. and Cassi Carter, M.S.N., R.N.
Graduate year: M.S.N. '18
After my twin sister Cassi Carter and I graduated from Betty Irene Moore School of Nursing, we felt nervous about many things, including that dreadful NCLEX, that first interview, and landing a job. Yet, we often discussed how prepared and confident we were in our ability to execute person-centered care. We were taught many aspects of nursing that have easily transcended into our everyday practice. We are fortunate to be Betty Irene Moore School of Nursing at UC Davis alumni and honored to now both work at UC Davis Medical Center as registered nurses. #UCDtwinRNs
---
Barbara Baranishyn-Hanna, Ph.D. '15, R.N., P.H.N., C.C.M.
Graduate year: Ph.D. Nursing Science and Health Care Leadership '15
I received the Lois C. Lillick Lifetime Achievement Award from the California Association for Health Services at Home (CAHSAH) on May 21, 2019. The award honors an individual for outstanding contributions to the continuing development of local, state, and national home care associations. During the Camp Fire in Butte County, I spearheaded the management of the Caring Choices Disaster Volunteer Center. The center processed over 4,000 spontaneous volunteers who responded to a call for medical and other assistance. Together, we continue to support the communities affected by the Camp Fire through grant-funded free mental health and case management assistance.
---
Neal Oppenheimer, MSN '17, RN, C.C.R.N.
Graduate Year: MSN '17
I am currently working in the pediatric ICU at UC Davis Children's Hospital and obtained pediatric C.C.R.N. certification in June.
---
Charis Ong, M.S. '18, R.N.
Graduate year: M.S.-Leadership '18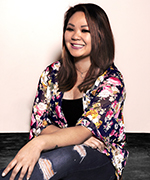 Since graduating from the Master's in Nursing Science and Health-Care Leadership program in 2018, I have embarked on several personal and professional journeys. I hiked through the Andes and ruins of Peru, and have traveled solo on a spiritual journey of self-discovery to Japan and South Korea. In between these adventures, I grew professionally as a nurse by teaching for the Master's Entry Level Program in Nursing (MEPN) at Betty Irene Moore School of Nursing.
Today, I am a part of the impeccable teaching team that supported and cultivated my growth. I do not believe I would be where I am today if I had not chosen to step outside of my comfort zone each day and challenge my fears. Thank you to Betty Irene Moore School of Nursing, because this personal journey of growth started the day I stepped into graduate school.
"Trust the process," words that still resonate with me today.