Whether the topic is highly publicized mass shootings like this summer's tragedies in Uvalde and Buffalo, or the more silent but ongoing epidemic of suicides involving guns, research and context from the UC Davis Violence Prevention Research Program (VPRP) continues to inform national debate and public policy responses around the prevention of firearm violence.
In one example, in July the California Governor's Office of Emergency Services announced $11 million in new community partnerships that are intended to expand outreach and education about the use of Gun Violence Restraining Orders (GVROs) — commonly known as "red flag laws" — to families, schools and communities most at risk for gun violence. The governor's press release pointed directly to two VPRP studies illustrating how most Californians don't know about red flag laws in the first place.
"Last year, the Violence Prevention Research Program at UC Davis Health released a study highlighting the need for increased public support and awareness about Gun Violence Restraining Orders," the governor's statement read. "They empower loved ones, or law enforcement, to intervene and temporarily prevent someone in crisis from accessing firearms."
The VPRP study, published in June 2021 in JAMA Health Forum, found that although GVROs have been available in California for five years, two-thirds of the Californians surveyed for the study had never heard of them. However, more than 80% of respondents said they would be somewhat or very willing to ask a judge to issue a GVRO if a family member had threatened to physically hurt themselves, someone else, or a group of people.
"Firearm violence is preventable, not inevitable," said lead author Nicole Kravitz-Wirtz, Ph.D., M.P.H., an assistant professor affiliated with VPRP. "Raising public awareness about proactive ways for people to intervene can be crucial for preventing violence before it occurs."
The Governor's release also cited another VPRP study that examines case details and mortality records from the first three years of California's GVRO law. That research, published this June, noted that the law was utilized for 58 threatened mass shootings.
Contributing to federal policymaking
This April, VPRP researcher and assistant professor Shani Buggs, Ph.D., M.P.H., was in attendance at a White House event where President Joe Biden announced a new rule to crack down on "ghost guns" and ban the manufacturing of untraceable firearms.
Buggs, whose work focuses on comprehensive approaches to reducing community violence, attended as a representative of the Fund Peace coalition, made up of violence prevention experts, program leaders, advocates and gun violence survivors. The group has provided ongoing consultation to the White House Domestic Policy Council, the White House Office of Public Engagement, and the U.S. House of Representatives Gun Violence Prevention Task Force about the need to invest in community violence prevention efforts.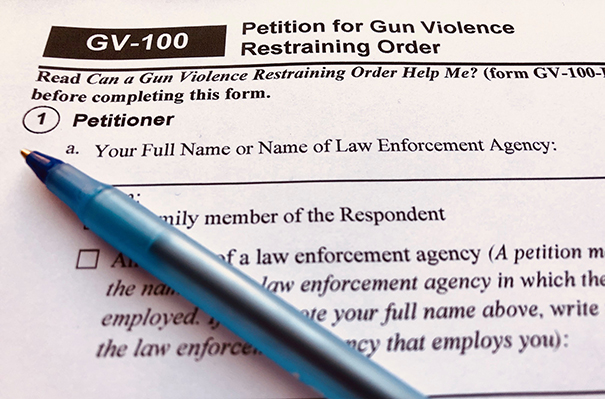 "Weapons that are unserialized, untraceable and easy to manufacture from parts sold freely on the internet should be of grave concern to everyone," Buggs said.
Among other requirements, the new federal rule bans manufacturing of the most accessible ghost guns, such as unserialized "buy build shoot" kits. Individuals can buy these online or at a store without a background check, the White House noted, and readily assemble a working firearm in as little as 30 minutes. The rule also requires federally licensed dealers and gunsmiths taking any unserialized firearms into their inventory to serialize the weapons.
Research on ghost guns by Garen Wintemute, M.D., M.P.H., director of VPRP and the California Firearm Violence Research Center at UC Davis and a physician in UC Davis Medical Center's emergency department, was used by the administration to help outline these new rules curbing their sale and use.
In an April 2021 commentary published in the journal Injury Epidemiology, Wintemute highlighted the problem. "Off-the-books, untraceable 'ghost guns' can now be manufactured at home, easily, and in large numbers; they contribute ever more frequently to firearm violence, including hate violence and domestic terrorism," the abstract read. "The Bureau of Alcohol, Tobacco, Firearms and Explosives estimates that in 2019 alone, law enforcement agencies recovered more than 10,000 ghost guns."
The manuscript describes the current situation and suggests specific actions that state and federal governments can take to avert disaster, such as prohibitions on unlicensed manufacture of firearms, and the application of purchase restrictions for fully functional firearms to firearm precursors as well.
Informing national discussion
VPRP research and expertise has also been in heavy demand by news outlets to help inform public knowledge and debate about gun violence.
After the tragic shooting in Uvalde, program researchers were interviewed by dozens of print, TV and radio outlets — from the New York Times to Reader's Digest — and participated in town halls and podcasts. Collectively, media coverage of VPRP reached tens of millions of viewers, listeners and readers.
In June, VPRP issued a memo featuring program research explaining what is currently known about mass shootings, how extreme risk protection orders (ERPOs) work, and their effectiveness in preventing harm to others and self-harm. Also in June, Wintemute joined Amy Barnhorst, M.D., BulletPoints director and vice chair for clinical services in the UC Davis Department of Psychiatry, in penning an op-ed, "We see it firsthand: red flag laws save lives" in The Hill. In July, researcher Veronica Pear, Ph.D., M.P.H., M.A., an assistant professor in UC Davis Health's Department of Emergency Medicine, published an op-ed, "Here's how to make red-flag laws most effective against gun violence" in the Washington Post.