Clinical highlights

Clinical highlights
A sampling of recent major achievements and developments from UC Davis Health and the UC Davis School of Medicine. For more listings and news, please visit our newsroom and follow us on social media.
Marshall joins UC Davis Cancer Care Network
Marshall Medical Center and UC Davis Health have announced an affiliation for cancer services that allows Marshall patients access to the National Cancer Institute-designated UC Davis Comprehensive Cancer Center through the UC Davis Cancer Care Network. The affiliation offers Marshall patients leading-edge care without leaving the western slope of El Dorado County, with collaborative cancer services based in Cameron Park and known as "Marshall Cancer Center, a UC Davis Health Affiliate." Network inclusion allows Marshall oncologists to work directly with UC Davis oncologists to ensure the latest diagnostic and treatment options for patients, with CME opportunities available for Marshall providers as well. University medical residents and fellows correspondingly can participate in clinical rotations with instructors at the Marshall Cancer Center. UC Davis Health has similar arrangements with several other community hospitals.
Robotic lung cancer diagnosis and removal in a single surgery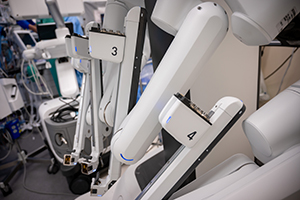 A leading-edge robotic lung cancer treatment now available through the UC Davis Comprehensive Cancer Center is shrinking the time between diagnosis and potential cure. This spring, UC Davis teams performed the UC system's first single-anesthesia diagnosis-to-treatment of lung cancer using a fully robotic approach known as robotic-assisted bronchoscopy. Combined with established robotic general thoracic surgery expertise, it allows for diagnosis and removal of a lung cancer mass during a single anesthetic rather than an anxious wait between procedures. Special CT software creates a 3D path for a catheter to collect biopsies, analyzed on site. If early-stage cancer is detected, the patient — still asleep — has a second precision robotic surgery, called a lobectomy or segmentectomy, to remove it the same day.
New multidisciplinary fragility fracture program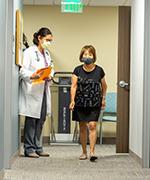 A multidisciplinary collaboration among UC Davis Health's departments of orthopedic surgery, endocrinology, rheumatology and geriatric care has formed a Fragility Fracture Program to ensure that patients who suffer a fragility fracture receive comprehensive treatment to prevent future fractures, and also to identify patients at risk for future fractures. The program includes tests and treatments to identify and manage underlying causes of bone fragility and improve bone stability, as well as nutritionist visits and physical therapy. Upon discharge, fragility fracture patients 65 and older are referred to UC Davis Health's mobility program at the Healthy Aging Clinic, which evaluates vision, neuropathy, orthostatics, cognitive impairment and any medicines that could increase fall risk.
New dedicated pediatric pulmonary hypertension program
UC Davis Health has launched a pediatric pulmonary hypertension outpatient clinic that provides a one-stop shop experience for patient and family, allowing them to see multiple physicians, a respiratory therapist, registered dietitian and a social worker all within a single visit. Specialists from pediatric cardiology, neonatology, pediatric critical care, pediatric cardiothoracic surgery, pediatric pulmonology and pharmacy are all part of the collaborative PH team.
Specialty pharmacy honored for high patient satisfaction
UC Davis Health Specialty Pharmacy has been honored for high patient-satisfaction ratings by the National Association of Specialty Pharmacy (NASP), which conducts patient-satisfaction studies for specialty pharmacies around the country. UC Davis received a net promoter score of 88.1, the highest score the specialty pharmacy department has ever received. It's also the second highest in the nation among accredited specialty pharmacies who took part in the survey. In comparison, the industry standard score for specialty pharmacies is 66. The net promoter score measures how many customers or patients would recommend your services minus the ones who would not.
Cancer news now available via podcast
The UC Davis Comprehensive Cancer Center has launched Beat Cancer, a new podcast that offers an in-depth discussion of the science, research, and advancements taking place at the center. The podcast also shares the latest cancer news including prevention, screening and treatment. Cohosts are former broadcasters Chris Joyce and Stephanie Winn. Find Beat Cancer on health.ucdavis.edu/cancer or your favorite podcast platform. Email beatcancer@ucdavis.edu to suggest topics.