Rankings

Rankings
A sampling of recent major achievements and developments from UC Davis Health and the UC Davis School of Medicine. For more listings and news, please visit our newsroom and follow us on social media.
Ranked among America's best
Nationally ranked in 9 adult specialties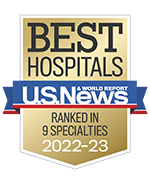 U.S. News & World Report ranked UC Davis Medical Center among the nation's top 50 hospitals in nine adult medical specialties for 2022–23, including: cancer care; cardiology & heart surgery; diabetes & endocrinology; ear, nose & throat; geriatrics; neurology & neurosurgery; obstetrics & gynecology; orthopedics; and pulmonology &lung surgery.
The hospital also earned "high-performing" acknowledgement in the gastroenterology & gastrointestinal surgery and urology specialties. U.S. News ranked the medical center the No. 1 hospital in Sacramento and No. 6 in California.
High-performing in multiple adult procedures and conditions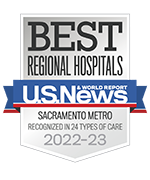 U.S. News also released ratings for common types of adult procedures and conditions, with "high-performing" considered the highest level of recognition. UC Davis Medical Center earned that rating in 13 common adult procedures and conditions, including: back surgery (spinal fusion); chronic obstructive pulmonary disease (COPD); colon cancer surgery; diabetes; heart attack; heart failure; kidney failure; lung cancer surgery; ovarian cancer surgery; pneumonia; prostate cancer surgery; stroke; transcatheter aortic valve replacement (TAVR).
Nationally ranked in 5 pediatric specialties
U.S. News ranked UC Davis Children's Hospital among the nation's best in five pediatric specialties for 2022–23, including: neonatology; pediatric diabetes & endocrinology; pediatric nephrology; pediatric orthopedics; and pediatric pulmonology & lung surgery.
The orthopedics ranking was awarded in collaboration with Shriners Children's Northern California, UC Davis Children's Hospital's longstanding partner in caring for children with burns, spinal cord injuries, orthopedic disorders and urological issues.
School of Medicine earns full accreditation
UC Davis School of Medicine has been granted full accreditation for eight years by the Liaison Committee on Medical Education (LCME), the accrediting authority for medical education programs leading to the M.D. degree in the U.S. The LCME team met with more than 150 faculty, staff, students and hospital leaders during the process. "I want to thank everyone involved in our successful re-accreditation," said Susan Murin, M.D., M.Sc., M.B.A., the school's interim dean. "Our success is the result of years of meticulous preparations and extraordinary work by the Office of Medical Education and all who served on committees, assisted with preparations and participated in survey visits." The School of Medicine ranked 3rd in the U.S. for diversity, 7th in family medicine, 8th in primary care, and 51st for research in 2023 U.S. News & World Report ratings.
Comprehensive Epilepsy Program receives highest national accreditation rating
UC Davis Medical Center's Comprehensive Epilepsy Program has been accredited as a Level 4 center for adult and pediatric epilepsy, the highest designation awarded, by the National Association of Epilepsy Centers (NAEC). The program is a leader in the surgical management of refractory epilepsy, with a wide array of services that includes a new 11-bed monitoring unit scheduled to open at the end of the year. As a Level 4 center, the program provides more complex forms of intensive neurodiagnostic monitoring, as well as more extensive medical neuropsychological and psychosocial treatment. Level 4 centers also offer complete evaluation for epilepsy surgery and a broad range of surgical procedures, such as minimally invasive laser surgery and devices such as responsive neurostimulation, deep brain stimulation and vagal nerve stimulation.
National awards for stroke and heart failure care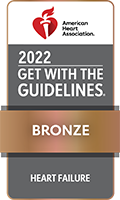 UC Davis Medical Center has been recognized by the American Heart Association with multiple Get With The Guidelines® awards for its commitment to following researched-based guidelines for treating stroke and heart failure:
Stroke Gold Plus: For reaching an aggressive goal of treating patients to core standard levels of care for at least two consecutive years
Target Stroke Honor Roll Elite Plus: For meeting quality measures to reduce time between hospital arrival and clot-busting treatment
Advanced Therapy Award: Recognizing speed of delivery for clot-busting drugs to stroke patients upon hospital arrival: 90 minutes or less for ED arrivals, and 60 minutes or less for transfers
Heart Failure Bronze Award: Honors proven dedication to ensuring all heart failure patients have access to best practices and life-saving care
Top-25 hospital for environmental excellence
UC Davis Health has been recognized by Practice Greenhealth as a national leader in environmental sustainability, and for the first time was named one of the country's Top 25 hospitals. This is the highest honor awarded by Practice Greenhealth, which has more than 1,400 U.S. hospitals and health systems part of its network. The Top 25 award examines the hospital's success in a range of sustainability programs, including leadership, greening the OR, sustainable procurement, green building, energy, water, climate and transportation.
'Best Employer' according to Forbes
UC Davis Health is 11th and UC Davis 18th on Forbes' latest ranking of best employers in California. The publication partnered with market research company Statista to compile the fourth annual list of America's Best Employers By State, compiled by anonymously surveying 70,000 Americans working for businesses with at least 500 employees. The final list ranks the 1,382 employers that received the most recommendations.