UC Davis Health will begin construction on a $579 million ambulatory surgery center this fall.
Earlier this year the UC Board of Regents approved the design of the building and authorized UC Davis to raise money for the 48X Complex, the project name for the new center. The project could break ground in October and begin accepting its first patients in March 2025.
The 48X Complex's design features a four-story, 262,000-square-foot building with 12 major operating rooms, five minor procedure rooms and 60 recovery bays. Diagnostic imaging, lab services, pharmacy services and seven specialty clinics will also be included. A key goal is to improve the patient experience by reducing wait times for elective procedures while expanding surgical service lines and therapies.
The center will encompass the entire block between 48th and 49th streets and X and Y streets, to the east of the main hospital building. The naming of surgery centers based on the intersections involved is designed to help patients more easily find the proper location.
"It's probably one of the largest ambulatory surgical centers in terms of the number of ORs and procedure rooms that actually exists in the U.S.," UC Davis Health CEO and Vice Chancellor of Human Health Sciences David Lubarsky, M.D., M.B.A., F.A.S.A., recently told the Sacramento Business Journal.
Ambulatory surgery centers focus on outpatient care and procedures that don't typically require hospital admissions. The 48X Complex will move some outpatient surgeries out of the main hospital, opening up hospital space for more acute cases while also decreasing wait times for elective procedures.
Complements new hospital tower
The regents approved the California Tower project, which will be more focused on ICU capacity and very complex surgeries. Some 56 percent of surgeries at UC Davis Health's main hospital are currently outpatient because the system doesn't have facilities to accommodate outpatients in the right type of environment — which the 48X Complex will offer.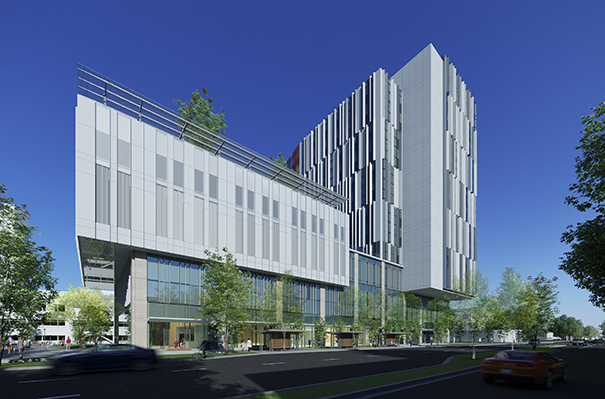 UC Davis Health will also plan to move procedures to the new operating rooms while the 30 existing operating rooms inside the hospital get seismic upgrades and renovations.
The California Tower is a replacement for existing parts of the hospital that must be closed due to state seismic laws, and will be added to the eastern side of the existing UC Davis Medical Center. It will feature a 14-story hospital tower and five-story pavilion, with ground-breaking slated for 2023 and patient opening in 2030.
The tower design "incorporates lessons from the pandemic, and those lessons will help us to deliver superior care for Northern Californians for the next 50 years," Lubarsky said at a make-ready event this spring. "The California Tower will triple our ICU capability, making half of our patient rooms ICU-ready. This investment will be a cornerstone in the critical care we provide our patients and the region moving forward."