First in California for two new robotic surgery systems
UC Davis Health has greatly expanded options for minimally invasive procedures with the arrival of new single-incision and spinal robotic surgery systems.
In April the health system became the first in California, and the second on the West Coast, to welcome the new da Vinci SP system. The unique technology allows surgeons to complete procedures such as prostate or tonsil removal through one small incision.
UC Davis will also be the West Coast's first academic health system to use another robotic system known as ExcelsiusGPS, designed exclusively to treat spinal conditions such as degenerative disc disease. The compact system links a mechanical arm with medical imaging and precise navigation capabilities.
More than 20 UC Davis Health surgeons and teams can now use robotic systems to treat a variety of conditions, from hepatobiliary and gastrointestinal problems to
head-and-neck disorders.
Heart repair without surgery for tiny preemies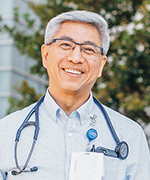 Sacramento families now have an alternative to surgery for patent ductus arteriosus (PDA), a condition that affects 20 to 60 percent of all preemies. Frank F. Ing, M.D., FACC, FSCAI, our chief of pediatric cardiology, has introduced capabilities to perform PDA closure in the cardiac catheterization lab for preemies as small as 600 grams. The approach reduces risks and only requires general anesthetic.
New Children's Surgery Center open
Young surgery patients throughout the region can now benefit from our new and improved UC Davis Children's Surgery Center. Opened last fall, the 20,000-square-foot facility includes seven larger and more effectively designed operating rooms, an advanced fleet of surgical equipment, and 24 pre and post-op bays. The blend of technology and child-friendly design complements our expertise as the West Coast's first — and to date California's only — American College of Surgeons-designated level I Children's Surgery Center. UC Davis Children's Hospital also operates the Central Valley's only pediatric emergency department and its only ACS-verified level I pediatric trauma center.
New TCAR Carotid treatment reduces stroke risk
Transcarotid artery revascularization (TCAR) is the newest approach to treating complex carotid artery disease offered at UC Davis Vascular Center, one of the region's first providers to make it available to patients. According to center director and Chief of Vascular Surgery Matthew Mell, M.D., M.S., the new technology offers three major benefits over traditional carotid procedures: stents travel less distance; loosened material travels away from the brain to larger, lower extremity vessels; and the treatment takes up to half the time of traditional procedures.