Alumni

Alumni Awards
UC Davis School of Medicine Alumni Association Awards
Distinguished Alumni Award
Lynne Smith (M.D., '90)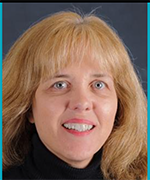 Distinguished neonatologist and prolific researcher Lynne Smith is the chair of pediatrics at Harbor-UCLA Medical Center, a professor of pediatrics at David Geffen School of Medicine at UCLA, and a leader in multiple other clinical, research and provider-development efforts.
Smith serves as medical director for Harbor-UCLA's High-Risk Infant Follow-up Program, designed to provide multidisciplinary outpatient services essential for vulnerable NICU graduates to reach their full potential. She's an internationally recognized expert in the effects of prenatal methamphetamine exposure on child outcome, and serves as a co-investigator for multiple NIH-funded studies in neonatology.
Smith is also a champion for creating and sustaining a culture of compassion for health care professionals. She's founding director of Schwartz Rounds at Harbor-UCLA, a program across all hospital staff for multidisciplinary sessions exploring the emotional side of caregiving. She also helped establish Helping Healers Heal, a Second Victim peer support program to help staff following unanticipated adverse patient events.
Smith has authored more than 100 publications in peer-reviewed journals and textbooks, and was the recipient of the Richard Weitzman Memorial research award, the highest honor bestowed on young investigators at Harbor-UCLA. She has earned four outstanding pediatric faculty teaching awards as well as the UCLA Geffen School of Medicine Award for Excellence in Education.
She serves on the board of directors for the Lundquist Institute, a major independent non-profit research institute, and is a member of the American Pediatric Society, an elected membership group reserved for individuals whose contributions to pediatric medicine have garnered national and international recognition.
---
Transformational Leadership Award
Kathleen (Jennison) Goonan (M.D., '81)
Ensuring that quality is part of all levels of health care, and that our institutions remain capable of successfully adapting to an ever-changing environment, has been Kathleen Goonan's life's work.
Goonan is a nationally recognized writer, speaker and advisor in all aspects of performance excellence and transformational change, with experience in large-scale strategies with health systems, integrated delivery networks and health plans. The Philadelphia-based physician executive has 30 years coaching executive teams on transformational strategy and effective use of Baldrige.
Goonan founded Goonan Performance Strategies (GPS) before joining Navigant Consulting in 2016. Navigant became a Guidehouse Company in 2019, where she is currently a partner in the health care practice.
Goonan has coached several national and state Baldrige award recipients in fundamental transformational change and performance excellence. She is the lead author of Journey to Excellence: How the Baldrige Healthcare Leaders Succeed, a guide to successful change based upon in-depth studies of Baldrige recipients.
She has been among the national judges for the Malcolm Baldrige National Quality Award, Joint Commission Codman Award, and the American Hospital Association McKesson Quest for Quality Award.
Goonan has also served as director of the MGH Center for Performance Excellence (MGH CPE), a consulting practice based at the Institute for Healthcare Policy, Massachusetts General Hospital in Boston. She worked as a senior executive in a wide diversity of hospitals and medical groups in Massachusetts, and has taught in the Harvard School of Public Health Leadership Development Program for Physicians, Intermountain Health Care's Advanced Training Program, and served on the Institute for Healthcare Improvement faculty since its founding in 1988.
---
2018 Humanitarian Award
G. Rom Kandavel (M.D., '01)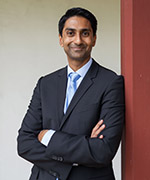 The need for ophthalmic surgery in other countries is great, and Rom Kandavel has been traveling internationally to provide eye care since the start of his career.
After graduation from UC Davis, Kandavel completed ophthalmology training at UC Irvine and went on to train eye surgeons as a specialty instructor in cataract surgery. He received post-graduate training in refractive surgery using the laser technologies, and was one of the first doctors to introduce laser cataract surgery to Los Angeles.
Outside of Southern California, Kandavel participates in missions to Gujrat, India where he helps to perform hundreds of cataract surgeries, along with blindness-preventing eye muscle surgery in young children.
Since 2006, he's also participated in medical missions to Nuevo Progreso, a village in Guatemala accessible by an 8-hour bus ride from Guatemala City. Kandavel performs eye surgeries at no cost to local inhabitants, and since 2013 has organized future mission trips and supplies with the help of physicians, nurses, and volunteers. Together with partner Michael Colvard, he runs the nonprofit Friends of Vision.
In March of 2019, Friends of Vision partnered with Liga International to help sponsor a trip to El Fuerte, Mexico, where Kandavel provided 25 surgeries and free eye care over the course of four days.
Back in the Southern California community, in 2013 Kandavel was chosen as team ophthalmologist for the LA Galaxy soccer team, and provided eye care for the U.S. Men's National Team for the 2014 World Cup in Brazil. In 2019, he was chosen as team ophthalmologist for the LAFC soccer team.