Clinical highlights

Clinical highlights
A sampling of recent major achievements and developments from UC Davis Health and the UC Davis School of Medicine. For more listings and news, please visit our newsroom and follow us on social media.
240 Top Docs
UC Davis Health physicians practicing in 61 medical specialties, including 15 pediatric subspecialties, were included on a list of the region's best doctors published in the December 2020 issue of Sacramento Magazine. "Top Docs" are selected through a peer-review survey led by Professional Research Services Company of Troy, Mich.
Cancer Center to help improve national guidelines
The UC Davis Comprehensive Cancer Center has been elected the newest member institution of The National Comprehensive Cancer Network® (NCCN®), a nonprofit alliance of 31 leading cancer centers that helps to create national clinical practice guidelines. As part of NCCN, the UC Davis cancer center will now appoint subject matter experts to join more than 1,600 multidisciplinary members across 60 panels responsible for more than 80 clinical practice guidelines (NCCN Guidelines®).
Lodi partnership featured in NEJM Catalyst
UC Davis Health's partnership with Adventist Health Lodi Memorial Hospital was highlighted in an issue of New England Journal of Medicine (NEJM) Catalyst last fall. UC Davis Health pediatrics and business leaders authored "Constructive Self-Cannibalism: Pediatric Affiliation Between an Academic University and a Community Hospital," available on the NEJM Catalyst website.
Motility testing for pediatric GI patients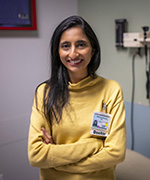 UC Davis Children's Hospital has added rare esophageal manometry and anorectal manometry capabilities through the expertise of Maheen Hassan, M.D. The services are helpful for diagnosis around severe but nonspecific symptoms, and for decisions about medical management versus surgery.
Next-Gen HD Linear Accelerator
UC Davis Comprehensive Cancer Center is adding two Elekta Versa high-definition (HD) linear accelerators, also known as "linacs." Versa Blue, as it is called by the Department of Radiation Oncology, involves 3D and 4D image guidance and is ideal for treating tumors that are hard to reach, prone to move, or next to vital organs.
Center of Comprehensive Care for Pulmonary Hypertension
UC Davis Health has received reaccreditation as a Center of Comprehensive Care from the Pulmonary Hypertension Association (PHA), the organization's highest level granted. The designation recognizes high quality and depth of resources for expert care. UC Davis first received accreditation in 2016, as one of the early programs recognized.