Leadership updates

Leadership updates
A sampling of recent major achievements and developments from UC Davis Health and the UC Davis School of Medicine. For more listings and news, please visit our newsroom and follow us on social media.
Brooks-Kayal new neurology chair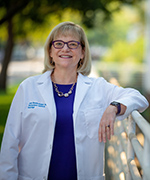 Internationally recognized neurologist Amy Brooks-Kayal, M.D., F.A.A.N., F.A.N.A., F.A.E.S., has been named the Andrew John Gabor, M.D., Ph.D., Presidential Chair in Neurology at UC Davis. Brooks-Kayal is known globally for her work as a neurologist and researcher who has led advances in epilepsy, pediatric neurology and neuroscience. Her research has identified cellular and molecular changes involved in the transition of the brain from normal to epileptic, with the goal of developing therapies that target that transition. She was most recently chief of Pediatric Neurology and co-director of the Translational Epilepsy Research Program at the University of Colorado School of Medicine.
Morris new radiology chair
Elizabeth Anne Morris, M.D., has been appointed chair of the UC Davis School of Medicine Department of Radiology. The Cal Aggie alumna is an internationally recognized expert in breast disease and the use of MRI, and the author of the book "Breast MRI: Diagnosis and Intervention" and numerous published papers. Her recent research efforts have involved using imaging biomarkers to assess risk and treatment response. Morris comes to UC Davis from Memorial Sloan Kettering Cancer Center, where she was chief of Breast Imaging Services and the Larry Norton Endowed Chair at Weill Cornell Medical College.
Simmons named Chief Administrator of UC Davis Medical Center
Brad Simmons, M.H.A., F.A.C.H.E., has been appointed to the newly created position of Chief Administrator, UC Davis Medical Center and Chief Operating Officer, UC Davis Health Hospital Division. The position is the senior most administrator for the medical center, replacing the prior position of hospital CEO which has been eliminated. Simmons is responsible for all inpatient care for UC Davis Health, and reports to David Lubarsky, M.D., M.B.A., Vice Chancellor of Human Health Sciences and UC Davis Health CEO. He also works closely with Michael Condrin, M.B.A., Chief Operating Officer, Ambulatory Care, who is responsible for all UC Davis Health outpatient care.
Atreja named Chief Information and Digital Health Officer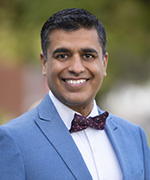 UC Davis Health has appointed Ashish Atreja, M.D., M.P.H., F.A.C.P., A.G.A.F., to the new position of Chief Information and Digital Health Officer. Atreja, a gastroenterologist, has been the chief innovation officer for the Department of Medicine at Mount Sinai Hospital, where he established one of the first innovation hubs within an academic medical center to build and test disruptive (transformative) digital health technologies. Atreja is credited with coining the term "Evidence-based Digital Medicine (EBDM)," and established the non-profit Network of Digital Medicine Association to connect innovation centers worldwide and share best practices for evidence-based digital medicine between industry, payers and health systems.
Brashear elected to McKnight Brain Research Foundation board
UC Davis School of Medicine Dean Allison Brashear, M.D., M.B.A., has been elected to the board of the McKnight Brain Research Foundation, the nation's only private foundation dedicated exclusively to solving the mysteries of the aging brain. Brashear, an expert in rare neurological disorders known as ATP1A3-related diseases, was co-principal investigator on NeuroNext and served as principal investigator on more than 50 clinical trials, leading to three FDA-approved medications. She serves on the American Board of Psychiatry and Neurology and the California Institute for Regenerative Medicine Independent Citizens' Oversight Committee, and has served on the boards of the American Neurological Association and the American Academy of Neurology.
Harvath is Gerontological Society president
Terri Harvath, Ph.D., R.N., F.A.A.N., F.G.S.A., has been elected president of The Gerontological Society of America, the nation's largest interdisciplinary organization devoted to the field of aging. An internationally recognized expert in gerontological nursing and nursing education, Harvath is senior director for strategic initiatives at the Betty Irene Moore School of Nursing at UC Davis, and serves as founding director of the school's Family Caregiving Institute. She was also founding director for the school's Master's Entry Program in Nursing.
Melnikow appointed to national task force
Joy Melnikow, M.D., M.P.H., a professor in the Department of Family and Community Medicine, has been appointed to the U.S. Community Preventive Services Task Force. Established in 1996 by the U.S. Department of Health and Human Services, the independent, nonfederal panel provides evidence-based guidance on community-based health promotion and disease prevention interventions. Melnikow has directed the UC Davis Center for Healthcare Policy and Research since 2009, and has served on the U.S. Preventive Services Task Force.
Farmer president-elect of American Surgical Association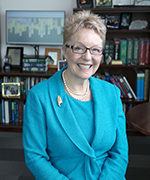 UC Davis Department of Surgery Chair Diana Farmer, M.D., is the new president-elect of the American Surgical Association (ASA) for the 2021–22 year. She assumes the presidency in 2022–23. Farmer is the first surgical leader from the UC Davis School of Medicine and the first woman from UC Health to be named to the position, and only the third woman elected to the position in the association's 141-year history. Farmer, who also serves as surgeon-in-chief of UC Davis Children's Hospital, is a fellow of the Royal College of Surgeons of England and a member of the Institute of Medicine of the National Academies.