Our Department of Surgery has launched the world's first human clinical trial using stem cells to treat spina bifida. The historic effort will test an innovative approach — developed by Department of Surgery physician-scientists over the course of more than a decade — that combines in utero surgery and cellular therapy.
The Food and Drug Administration issued its approval last fall for clinical trials of the one-of-a-kind treatment, developed by a team led by Department of Surgery Chair Diana Farmer, M.D., F.A.C.S., F.R.C.S., and by Aijun Wang, Ph.D., the department's Vice Chair for Translational Research, Innovation and Entrepreneurship. The California Institute for Regenerative Medicine (CIRM) followed in the winter with a $9 million grant award, allowing investigators to proceed with recruitment and launch.
Spina bifida affects about 1,500 to 2,000 children each year in the U.S., and represents the most common cause of lifelong paralysis. The birth defect occurs when spinal tissue improperly fuses during the early stages of pregnancy, and commonly leads to a range of lifelong cognitive, mobility, urinary and bowel disabilities.
The complex treatment being targeted by UC Davis involves mesenchymal stem cells and a form of biomaterial scaffold, creating a kind of stem cell "patch" that's placed over the condition's injury site in the womb during fetal surgery. Farmer and Wang are generating the mesenchymal stem cells, known to be among the most promising in regenerative medicine, from donor placental tissue, that is specifically engineered for neuroprotection and regeneration.
The hope is to help human patients boost motor function and walk independently, particularly those with the severe form of the disease known as myelomeningocele.
A decade-long pursuit
Farmer, Wang and their research team have been working on their novel approach for more than 10 years. Over that time, animal modeling has shown it capable of preventing the paralysis associated with spina bifida. It's believed that the stem cells work to repair and restore spinal tissue, beyond what surgery can accomplish alone.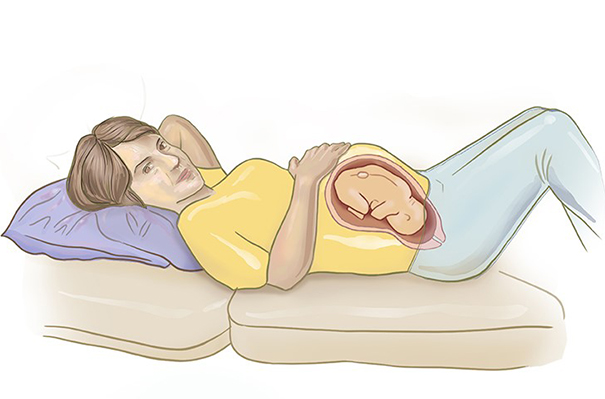 Preliminary work by Farmer and Wang proved that prenatal surgery combined with human placenta-derived mesenchymal stromal cells, if held in place with a biomaterial scaffold, helped lambs with spina bifida walk without noticeable disability. When the team refined their prenatal surgery and stem cells technique for canines, the treatment also improved the mobility of dogs with naturally occurring spina bifida.
A $5.6 million CIRM grant followed in 2018 to support final preparations for human trials. The agency had provided an initial $2.2 million preclinical development award three years earlier.
Building on fetal surgery advances
As a leader of the MOMS trial in the early 2000s, Farmer had previously helped to prove that in utero repair surgery reduced neurological deficits from spina bifida. Many children in that study, however, still required wheelchairs or leg braces.
She recruited Wang specifically to help take that work to the next level. Together, they launched the UC Davis Health Surgical Bioengineering Laboratory to find ways to use stem cells to advance surgical effectiveness and improve functional outcomes. Farmer launched the UC Davis Fetal Care and Treatment Center with fetal surgeon Shinjiro Hirose, M.D., F.A.C.S., and the Children's Surgery Center several years ago.
Participants for the current spina bifida trial will be treated at those centers, with UC Davis Children's Hospital and Shriners Hospitals for Children — Northern California providing follow-up care. Shriners has also helped fund related research, along with the National Institutes of Health.