As the Omicron surge peaked, UC Davis Medical Center saw a record number of COVID hospitalizations — most involving severe symptoms — and a record-breaking number of overall emergency department visits.
Highlights: Responding to the novel coronavirus
August 2021
Aug. 17 – Boosters begin
As COVID-19 cases rise due to the Delta variant, UC Davis Health begins reaching out to immunocompromised patients who meet the CDC's new criteria for the third dose vaccinations.
---
September
Sept. 24 – UC Davis Health begins giving boosters to broader group
Following CDC recommendations, UC Davis Health begins administering third Pfizer/BioNTech COVID-19 vaccine booster shots to other groups more at risk because of age, health or occupation.
---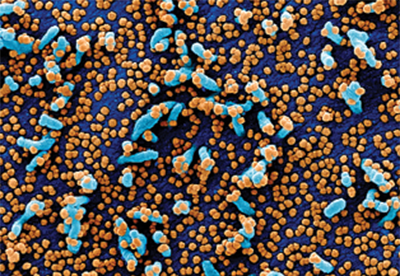 Sept. 29 – Testing potential treatments and vaccines
The search for safe and effective COVID treatments continues at the UC Davis School of Medicine, with researchers recruiting for multiple clinical trials involving stem-cell-based therapies, monoclonal antibodies, oral antivirals, and other experimental drugs or approaches. UC Davis received about $42 million in COVID-19 research funds in 2020-21, with the School of Medicine's share nearly $28.5 million.
Image credit: NIAID-RML
---
October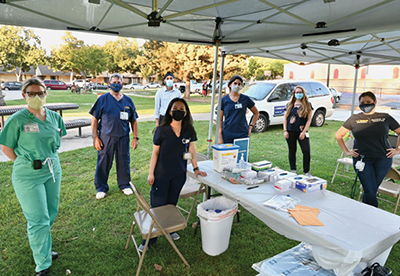 Oct. 20 – Volunteers bring vax clinics to underserved areas
Dozens of UC Davis Health volunteers set up tents to provide COVID-19 shots at community events in medically underserved areas around the county. When the summer surge sent waves of unvaccinated patients to the hospital, faculty members worked closely with School of Medicine leadership to develop a targeted approach to help educate and vaccinate residents of disadvantaged neighborhoods. The mobile clinics are staffed by UC Davis Health doctors, employees, and more than 120 medical and nursing students.
---
November
Nov. 19 – The federal government opens COVID-19 booster shots to all adults.
---
Nov. 26 – The World Health Organization recognizes the Omicron strain as a variant of concern, citing an unusually heavy number of mutations and a swift rise in cases were discovered in southern Africa earlier in the month.
---
---
December
Dec. 1 – The first confirmed U.S. case of Omicron is identified, a day after the nation also designates it as a variant of concern.
---
Dec. 17 – A community warning
UC Davis Health infectious disease experts issue a media advisory urging the community to keep up with prevention behaviors during the holiday season, following soaring COVID-19 hospitalizations in recent weeks at UC Davis Medical Center. The increase follows additional travel and indoor gatherings over Thanksgiving, experts say, indicating the risk of a winter surge. The CDC has recently warned that rapidly increasing Omicron cases are likely to create a national surge in coming weeks.
---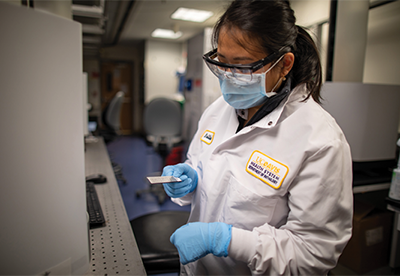 Dec. 17 – Machine learning drives new COVID test
UC Davis Health, in partnership with SpectraPass, is evaluating a new type of rapid COVID-19 test co-developed by the startup company and Pathology and Laboratory Medicine faculty. The scalable system is designed to accurately perform on-site tests for hundreds or potentially thousands of people, using machine learning to analyze protein profiles issued in response to infection. A study published by developers in Nature Scientific Reports found the novel method 98.3% accurate for positive tests and 96% for negative.
---
Dec. 28 – Record-breaking number of Emergency Department visits
UC Davis Medical Center providers treat more than 300 patients in the Emergency Department — an all-time high — due to a combination of COVID-related illnesses, flu, traffic accidents, and patients with chronic diseases.
---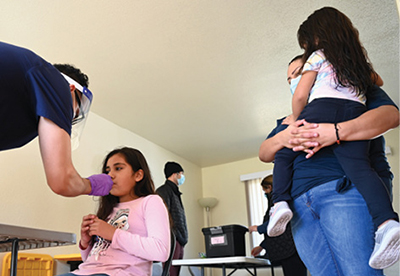 Dec. 29 – Testing initiative helps migrant communities
A crucial effort by UC Davis Health to detect COVID-19 among farmworkers and other vulnerable populations has resulted in more than 17,000 rapid tests to date given to residents of four Central California counties, officials say. Underway since February, the NIH-supported ÓRALE initiative offers free screening primarily to Latinos with a focus on agricultural essential workers at locations and hours convenient to them. Of those screened, about 1,050 tested positive and were offered counseling on next steps.
---
January 2022
Jan. 7 – Omicron's sheer infectiousness upends lives
Both California and Sacramento County see record numbers of infections, with testing in great demand and the statewide positivity rate over 21%. Fortunately, Omicron appears to cause milder illness in many people compared to previous variants. Many people are now vaccinated as well, which helps protect against severe COVID from any variant. But Omicron is also incredibly contagious, with as much as double the transmissibility of Delta. And because it spreads so easily, sheer math drives a record-high number of cases. Unvaccinated people, as usual, are much more likely to experience severe symptoms than the vaccinated.
---
Jan. 11 – International study identifies predictors of severe outcomes in children with COVID-19
A new international study co-led by UC Davis Health offers a clearer picture of COVID-19 risk for young people worldwide. With co-leaders University of Calgary and Children's Hospital of Chicago, the Pediatric Emergency Research Network study followed more than 10,300 children in 10 countries, including 3,200 who tested positive. Patients older than five, with chronic illness, previous pneumonia, and presenting to hospital four to seven days after onset were found at higher risk for severe outcomes.
---
Jan. 14 – UC Davis Medical Center is formally designated as a State Surge Hospital, allowing administrators to bring in more staff to provide care and continue to serve the needs of seriously ill patients.
---
Jan. 18 – Record COVID hospitalizations
UC Davis Medical Center reports a record 126 patients hospitalized at the medical center with active COVID-19 infections — most of them with severe symptoms. On Jan. 1, there were 37. The new number surpasses the previous winter's peak of 125 COVID patients. According to state and local health dashboards, COVID-19 cases, hospitalizations and symptom-driven ER visits had set new all-time-record high numbers for Sacramento County over the previous week.
---
Jan. 20 – Dissecting COVID's impact on sense of smell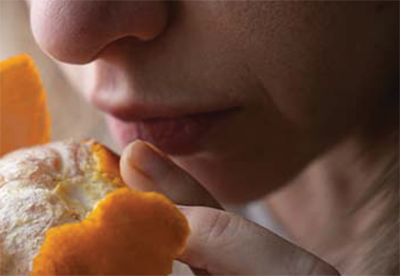 UC Davis Health otolaryngologists and molecular neuroscientists receive a NIH grant to characterize the severity and length of patient smell loss, collect samples, and conduct in-depth protein analyses to dissect the mechanisms that cause olfactory dysfunction. The team in this unique collaboration hopes to potentially identify diagnostic tools and therapeutic treatments.
---
Jan. 25 – Paxlovid antiviral pill introduced
UC Davis Health becomes one of a few designated academic medical centers in California to receive Pfizer's new COVID antiviral Paxlovid, used at UC Davis Medical Center and outpatient clinics to protect very at-risk patients from the most severe effects of COVID-19. Medical experts say the pill is a valuable treatment option because unlike other available therapies, people who are newly infected can easily take it at home.
---
February
Feb. 2 – Highlighting COVID safety for the Black community
Pediatrician Michael Lucien, associate medical director of the UC Davis Health Community Physicians Group, participates in a webinar addressing the effects of COVID-19 on the Black community, and answers questions from the public. "The Effects of COVID-19 on African American/Black Youth: How To Keep Your Family and Children Safe" is part of a UC Davis Institute for Diversity, Equity and Advancement (IDEA) series. COVID-19 has disproportionately affected the U.S. Black population throughout the pandemic.
---
Feb. 9 – A UC Davis-engineered antibody helps block SARS-CoV-2 transmission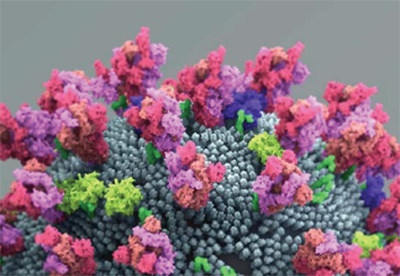 Inspired by an approach used in cancer therapeutics, UC Davis Health Medical Microbiology and Immunology researchers announce they have engineered a novel antibody, FuG1, that can directly interfere with the cell-to-cell transmission ability of SARS-CoV-2. FuG1 targets the enzyme furin, which the virus uses for its efficient chain of infections in human cells. A study evaluating efficacy of the antibody appears in Microbiology Spectrum.
---
March
March 2 – Vulnerable groups receive COVID-19 shots from UC Davis Health, thanks to federal grant
The latest effort by UC Davis Health to bring COVID-19 shots to hard-to-reach, vulnerable populations is a strategic project funded by a federal grant and overseen by the California Department of Public Health Office of Health Equity. The emphasis of "MOVE IT UP" is on Latino farmworkers and African Americans in Sacramento and Yolo counties. The UC Davis Center for Reducing Health Disparities is the lead on the initiative, which has administered 3,000 doses since December.
---
March 8 – Testing more booster options
UC Davis Health partners with Pfizer on two new clinical trials to test the COVID-19 booster vaccine in healthy adults. The first study aims to test if different doses produce similar immune responses, with participants randomly assigned either the standard 30-micrograms or 10. The second study will analyze levels of troponin I, a heart muscle protein, before and after boosting. UC Davis Health was one of 150 sites worldwide participating in the original clinical trial for the Pfizer vaccine candidate, the first time mRNA-based vaccines are used against an infectious disease.
---
March 11 – California lifts its mask mandate for schools, after lifting it for vaccinated and then unvaccinated individuals in previous weeks.
---
March 14 – COVID's impact on health care workers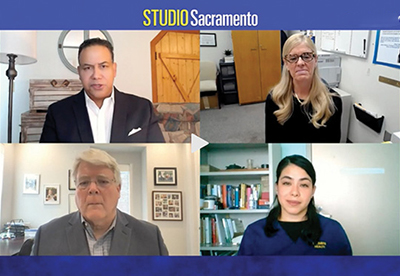 Two years after the start of the pandemic, a panel of experts from UC Davis Health shares perspectives on what it has been like for health care providers on KVIE's "Studio Sacramento." Participants include Chief Wellness Officer Peter Yellowlees, peer responder coordinator Michelle Linenberger, and ICU nurse Andrea Vega-Breaux, a registered nurse in the medical ICU. "It's shown the public what health care workers do and lifted the veil of secrecy to show health care heroes and their essential value," Yellowlees explains. "On the other side, it's been extremely stressful and a lot of exposure to 'moral injuries, which is an inability to work to the best of your training or practice."
---
March 15 – Future Pandemic and Rapid Response Institute
Following the passage of federal spending legislation, UC Davis will receive $1 million to lay the foundation needed to launch a Future Pandemic and Rapid Response Institute that can help the U.S. anticipate, prevent, recognize and respond to emerging diseases and pandemic threats. The new institute will build on UC Davis' decades of emerging infectious disease research and its USAID-funded leadership in pandemic prevention and response in other countries to apply its experience and expertise to national needs.
---
April
April 23
In a nod to the crucial role of science during the pandemic, senior director of clinical pathology Nam Tran, is named marshal for UC Davis' Picnic Day after emerging as a key local and national figure in COVID-19 testing.
At the start of the pandemic, Tran and colleagues gained national attention for developing a COVID-19 diagnostic test from scratch in just 19 days. Four additional platforms deployed by June, including a two-hour test for the ED.
By fall 2020, Tran's team rolled out a rapid PCR test for flu and COVID. In spring 2021, Tran and collaborators debuted a novel platform for use outside health care, with SpectraPass. Tran also worked to gear up statewide testing on California's task force.
Since the pandemic began, UC Davis Health lab professionals have performed more than 223,000 COVID-19 tests.
"The challenge is to address what we have learned during the pandemic — such as the existing health disparities exacerbated by the pandemic, the limitations of current tests, and the unknowns related to infection," Tran said in April. "The virus still has a lot to teach us."