Today was the day. Out of thousands of applicants, one student's road to medicine was about to begin.
The assistant dean for admissions picked up the phone and dialed the number. As the ringing sound rippled through the receiver, the privilege of notifying an accepted student rushed over him. He was about to witness the sheer elation and joy that comes when a young person learns they've made it into the school of their choice.
"Hello?" came a voice from the other end of the line. "Hi, this is Dr. Sousa, Assistant Dean for Admissions and Student Development at UC Davis School of Medicine. I want to congratulate you and welcome you to our community and medical family. We know you will grow here — and with our world-class medical education, have the opportunity to become the physician of your dreams."
Truer words couldn't resonate more with Frank Sousa (M.D., '74), as almost 50 years ago he was once the applicant on the other end of the line. In the decades since launching his own medical career, the highly recognized UC Davis volunteer clinical professor and alum has created an ever-lasting footprint with the School of Medicine, devoting over 40 years to teaching, mentoring, promoting student growth, innovating and leading. To date his all-encompassing dedication and volunteerism have helped hundreds of students find and follow roadmaps to their medical futures.
"I'm proud to have been able to help many students follow their paths, and eventually enter residencies and careers that are satisfying to them both personally and professionally," he said.
Due to his commitment to higher learning, unparalleled passion for supporting students, and helping the UC Davis School of Medicine achieve excellence, Sousa is the recipient of the UC Davis School of Medicine Alumni Association's 2019 Distinguished Alumni Award.
Where it all began
Recognized for his compassion and advocacy, Sousa's journey to helping others was strongly influenced by his parents' generosity, work ethics, and exemplary lives.
"My father was a natural-born innovator and organizer as a building contractor. My mother was a nurse who taught me the joy of helping others through caring for them in times of need," Sousa said. With this strong foundation plus their encouragement for higher education, he found his calling to a career in medicine — right here close to home.
Being accepted and entering the brand-new UC Davis School of Medicine was transformative. As Sousa began his first semester as a medical student in the fall of '70, the fledgling school — then based in Davis itself — offered an innovative curriculum designed to provide both a humanistic and scientific grasp of medicine. He and other classmates would actually help to shape the program, while gaining experiences and bonds that he still reflects on today.
After four years and countless clinical hours, UC Davis had developed a physician who would go on to help thousands of people directly, and give back tenfold to the place where it all began.
Focused on service
Inspired by the impact of others' gratitude and being integrally involved in the community, Sousa began his practice as an ophthalmologist with the Veteran Affairs Northern California Health System, just a few blocks from the UC Davis School of Medicine.
It was during this time his career came full circle, coupling ophthalmology with his love for education. Sousa ventured back to his roots at UC Davis, where he immediately joined the volunteer clinic faculty and began teaching UC Davis medical students and residents. After his time at the VA, he continued working in admissions and student advising, and eventually went on to become the assistant dean for admissions and student development at UC Davis School of Medicine.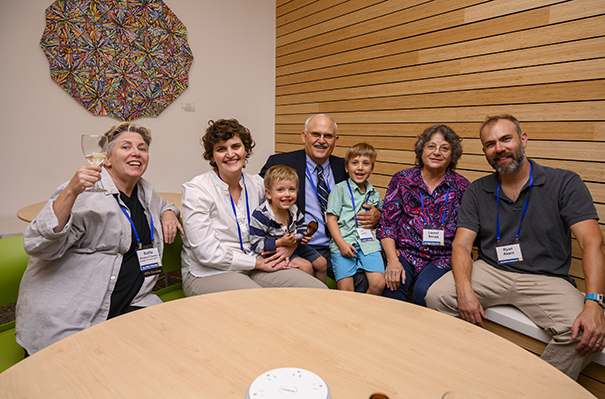 He spent decades engrossed in recruitment, mentoring, advising, and student development on several different fronts, including the UC Davis Postbaccalaureate program, the UC Davis Family Nurse Practitioner and Physician Assistant program, the UC Davis PreHealth Program, and the Betty Irene Moore School of Nursing. These contributions helped mold great students, but also phenomenal people who would eventually become health care leaders.
"We look for students with the attributes of good physicians and great people," he said. "Our medical students reflect the diversity of California and the qualities and capabilities that every physician must possess to be able to provide quality care for patients."
It was this extraordinary passion for influencing and shaping minds that would help develop the next generation of physicians — and change many students' lives forever.
A strong impactful presence
Throughout Sousa's career, he has worked with hundreds of students trying to find their niches in medicine as physicians and hoping to fulfill their dreams of helping patients during vulnerable times. As an inspirational mentor and advisor, Sousa has met and empowered countless students. He has observed firsthand the heart, integrity and hard work as they have evolved from med school to residency and beyond.
These high-caliber qualities hold true to the school's original mission that Sousa recalls hearing on his first day of class in 1970 from Dean Tupper — that "one day the UC Davis School of Medicine will be a world-class medical school." Tupper went on to say, "To accomplish this mission, each and every one of us must work hand-in-hand with our academic and volunteer faculty to serve with humility the community of physicians and patients we are now an integral part of."
That mission still holds true today, with many embodying it — including Luis Godoy, who one day did receive a lifechanging phone call.
The former gang member from Suisun City, now a cardiothoracic surgery resident and subject of international media attention, credits Sousa's mentorship as being a tremendous impact to his career.
"One of the things that I have learned throughout my entire life span is to seek mentors and seek people who can help guide you along the way," said Godoy, in an ABC 10 interview. "One of those people is Dr. Frank Sousa."
Sousa says Luis, as so many others, "has helped me just as much as I have helped him."
As a true champion for students and a touchstone of humanity, Sousa's pride in UC Davis will always show.