Cancer care during the winter surge: Don't delay seeing the doctor
(SACRAMENTO)
Clinicians at the UC Davis Comprehensive Cancer Center and other facilities within UC Davis Health are on a mission to get patients the care they need despite COVID-19.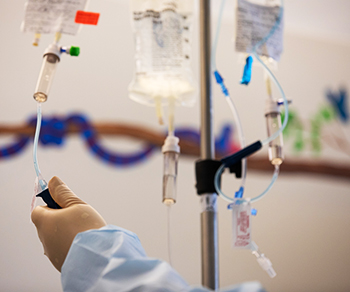 It is critical that patients keep on schedule with annual check-ups and cancer screening such as mammograms, Pap smears and colonoscopies. Appointments with their health care providers should not be delayed if there are concerns about a such tests or a change in the patient's health. And, if any treatment is required, it is important it isn't postponed.
"Cancer doesn't wait, and we're worried that people with otherwise treatable disease will delay care as the pandemic persists," said Primo "Lucky" Lara, Jr., director of the UC Davis Comprehensive Cancer Center.
Patients like Marlene Blake, treated for breast cancer during the COVID-19 pandemic, are glad they didn't put off surgery. "I don't know how long I'd have been here had they cancelled my surgery," said Blake.
Pam Weydert is glad she was seen, diagnosed and treated for pancreatic cancer—all during the pandemic. "My advice is to listen to your body and to your family members when they urge you to see a doctor—even if there's a global pandemic," said Weydert.
The cancer center is fully staffed, just as it was pre-pandemic, and precautions are being taken to ensure patient safety:
Most doctors, nurses and other staff are now vaccinated against COVID-19
Visitors are restricted
Patients and employees are screened for infection daily
Masks are mandated
Social distancing is practiced
Sanitizer and hand washing facilities are provided
"Outside your home, it's one of the safest places you can be, and delaying medically necessary care can have life-threatening consequences," said Richard Bold, physician-in-chief of the UC Davis Comprehensive Cancer Center.
It is important to contact your medical provider to ensure you are keeping up with routine screenings and communicating any symptoms you may be experiencing.
"At UC Davis Health, we are working to prevent a wave of post-pandemic deaths from cancer and other serious conditions because people are afraid to come in for screenings or treatment due to COVID-19," said Bold.
Visit our website for more information about how UC Davis Health is keeping patients safe.
Embracing telemedicine during COVID-19
Seeking care may be as simple as talking to your care team virtually (online or over the phone). As many as 20% of cancer center visits are now conducted via telemedicine, which can be convenient for parents caring for children at home, people who cannot take time off work or others who lack transportation.
"Some of the lessons we're learning from COVID-19 are changing how we deliver health care now and into the future," said Bold. "Telemedicine is a really good example."
While some procedures still need to be performed in person, telemedicine offers patients a way to connect with their physicians, review x-rays or lab results, discuss treatment options or conduct follow-up visits from the comfort of home.
For more information, visit the UC Davis Comprehensive Cancer Center website or call 1 800 770-9261 to talk to someone who can answer your questions.