Healing arts take center stage in honor of National Cancer Survivor Day
'Cancer artists' asked to submit creative expressions they used as recovery tools
(SACRAMENTO)
As National Cancer Survivors Day approaches in June, the UC Davis Comprehensive Cancer Center is looking for submissions of art that have helped local cancer survivors heal. Examples may include, but are certainly not limited to, paintings, sketches, ceramics, pottery, dance, collages, writing pieces, crafts, music, and bead making.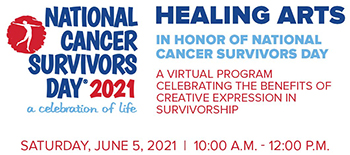 The cancer center's virtual National Cancer Survivors Day event will be held Saturday, June 5, from 10 a.m. until noon, and will include interactive presentations and a display of healing arts. To register, click on the Celebrating Cancer Survivors with Healing Art event page. The event is free and once you register you will receive the virtual meeting link.
"Expressive arts can provide cancer survivors a way to communicate their thoughts and feelings beyond words," said Angela Usher, manager of supportive oncology and survivorship program for the UC Davis Comprehensive Cancer Center. "Whether it is music or painting, or any other form of creative expression, healing arts can be a therapeutic outlet for cancer patients and survivors, which can have a positive effect on their health and wellbeing."
Digital copies of art submissions should be emailed to UC Davis Community Education Specialist Silvia Molina at scmolina@ucdavis.edu by May 27, 2021.
Along with the entry, the cancer survivors are asked to provide a few sentences about why the art helped with the experience of undergoing diagnosis and treatment as well as surviving cancer.
UC Davis Comprehensive Cancer Center
UC Davis Comprehensive Cancer Center is the only National Cancer Institute-designated center serving the Central Valley and inland Northern California, a region of more than 6 million people. Its specialists provide compassionate, comprehensive care for more than 15,000 adults and children every year and access to more than 150 active clinical trials at any given time. Its innovative research program engages more than 225 scientists at UC Davis who work collaboratively to advance discovery of new tools to diagnose and treat cancer. Patients have access to leading-edge care, including immunotherapy and other targeted treatments. Its Office of Community Outreach and Engagement addresses disparities in cancer outcomes across diverse populations, and the cancer center provides comprehensive education and workforce development programs for the next generation of clinicians and scientists. For more information, visit cancer.ucdavis.edu.