Join the St. Baldrick's virtual shave party!
Watch people go bald for childhood cancer research on April 23
(SACRAMENTO)
UC Davis Children's Hospital pediatricians are going above and beyond the call of duty by going bald for childhood cancer research, and the world can watch. Tomorrow, April 23, the annual St. Baldrick's Sacramento shave party goes virtual at noon.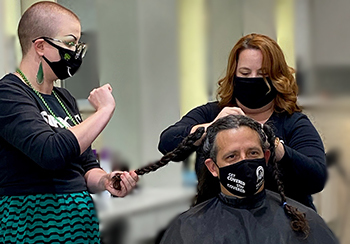 So far, the UC Davis Pediatric Shavees have raised $5,552 for St. Baldrick's. The team is a partnership between the UC Davis Comprehensive Cancer Center and Keaton's Child Cancer Alliance.
UC Davis pediatricians Mitch Ratanasen, Eric Crossen and Erik Orlando Fernandez y Garcia make up the top donor team. Fernandez y Garcia, alone, has raised $2,562 for St. Baldrick's.
"I grow my hair to donate to charities that create wigs for kids who have cancer," said Fernandez y Garcia. "This year, I noticed that donations to St. Baldrick's were down because of COVID-19, so I thought, why not let my shaved hair raise money for St. Baldrick's, too?"
Fernandez y Garcia said that he participated in St. Baldrick's as a way of honoring his mother, who died of colon cancer in 2004.
"I grew up in the Meadowview neighborhood, and it is so important to give back to your community, especially if it has carried a heavier cancer burden than other areas," said Fernandez y Garcia.
Other teams participating this year include Hair Goes Nothing, Cue Balls, Gear Heads for Kids and the UC Davis Police Department.
Shavees seek financial pledges as they go bald for St. Baldrick's, which is usually held at the cancer center auditorium on St. Patrick's Day. This year, participants went to the Supercuts at 1589 W. El Camino Ave. in Sacramento where, for free, they were shaved bald for the camera. Others videotaped themselves at home as someone shaved their hair off. Videos of the head shavings were collected and have been uploaded to the St. Baldrick's event site in preparation for the virtual shave party tomorrow night. So far, area teams have raised $26,607, with a goal of hitting $30,000 by tomorrow.
The St. Baldrick's Foundation, a volunteer-powered charity, funds more childhood cancer research grants than any organization except the federal government. Every two minutes a child in this country is diagnosed with cancer and one in five children diagnosed with cancer will not survive. Since St. Baldrick's began, the five-year survival rate has risen from about 79% to 85%, but there are still cancers no child survives.
It's not too late to donate!
Go to the UC Davis Comprehensive Cancer Center registration site to support your favorite St. Baldrick's shavees. To find out more, contact Catrina Arcularius at 916-276-5080 or email her at Catrina.Arcularius@childcancer.org.
UC Davis Comprehensive Cancer Center
UC Davis Comprehensive Cancer Center is the only National Cancer Institute-designated center serving the Central Valley and inland Northern California, a region of more than 6 million people. Its specialists provide compassionate, comprehensive care for more than 15,000 adults and children every year and access to more than 150 active clinical trials at any given time. Its innovative research program engages more than 225 scientists at UC Davis who work collaboratively to advance discovery of new tools to diagnose and treat cancer. Patients have access to leading-edge care, including immunotherapy and other targeted treatments. Its Office of Community Outreach and Engagement addresses disparities in cancer outcomes across diverse populations, and the cancer center provides comprehensive education and workforce development programs for the next generation of clinicians and scientists. For more information, visit cancer.ucdavis.edu.