New resource specialist will help pediatric cancer families with non-medical needs
New position inspired by young cancer patient and funded by the Super Fritz & Friends Fund
(SACRAMENTO)
Pediatric cancer is hard on families and the journey is often complicated by pressures unrelated to actual medical care. A new initiative aims to address the emotional, practical and financial struggles facing families while their child is undergoing cancer treatment. It will be the topic of a virtual event hosted by the UC Davis Comprehensive Cancer Center on Wednesday, December 16 at 4:15 p.m. To register, click here to attend event.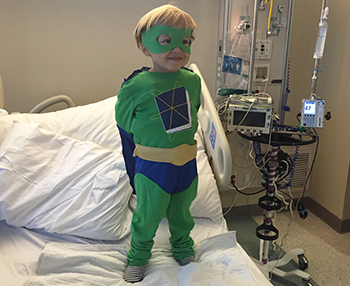 UC Davis pediatric hematology oncologists Marcio Malogolowkin and Anjali Pawar will discuss the unique program. They'll be joined by members of the two families behind the launch of the Super Fritz & Friends Fund and the young cancer patient who served as the inspiration. Participants will learn how they can get involved with the effort to bring a full-time position to the cancer center to help meet the needs of pediatric cancer families.
"We need a resource specialist who will partner with our social workers, addressing the many requirements and needs that these families face. That will allow the pediatric team to have more time to focus on the psychosocial needs of our patients," said Malogolowkin.
Resource Specialist Position

Key support for children and their families:
• Identify financial assistance, including gas cards and transportation programs to cover economic needs, especially for underserved members of the community.
• Navigate health insurance challenges.
• Recommend mental health resources for patients and family members to help balance the needs of the entire family and reduce stress.
• Provide checklists and personal guidance once home from the hospital to include house cleaning resources, childcare options and other practical needs.
• Work with schools to address educational loss, provide tutoring resources and ensure siblings are also not impacted.
• Navigate social services to support families managing a child's cancer care.
• Advise working parents going through employment challenges and assist in arranging family leave.
• Initiate scholarships for childhood cancer survivors
The resource specialist position will strengthen and enhance the support that the UC Davis Comprehensive Cancer Center provides to loved ones and families.
"Many people give money for research for a cure. What is left out are funds for a non-medical facilitator to guide and assist families at the time their child is diagnosed with cancer," says Ruth Flowers who, with her husband Paul, helped start the Super Fritz & Friends Fund. They made the decision after watching the challenges their close family friends, the Starks experienced when their son Fritz was treated for cancer.
Fritz was diagnosed with B-Cell Acute Lymphoblastic Leukemia when he was just two years old, about the same time he became a big fan of superheroes. Procedures and hospital stays couldn't keep this high-energy kid down, which is why he was nicknamed "Super Fritz." He is now about to turn 8 and is cancer-free.
"Fritz undoubtedly received the best medical care from his comprehensive team of UC Davis doctors, nurses and child life specialists," shared mom Anna Stark. "The front desk team and the medical techs were joyful people to be around. We loved the pediatric infusion center, also known as the 'juice caboose,' and can't wait to watch this new family resource position be realized and flourish, too."