Outreach to vulnerable populations key to studying the impact of COVID-19 on cancer prevention
(SACRAMENTO)
What impact is COVID-19 having on cancer prevention, control and survival? The UC Davis Comprehensive Cancer Center is collaborating with 17 other cancer centers to study and try to answer that question, thanks to funding from the National Cancer Institute.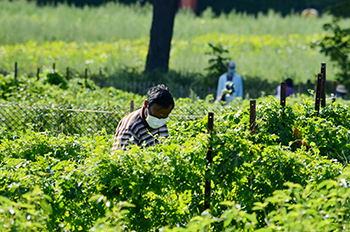 The UC Davis cancer center's grant is focused on diverse communities.
"We are the only center being funded to study six different populations for a total of 1,000 people: African Americans, Chinese, Hmong, Latinos, Native Americans, Vietnamese and rural residents to determine the impact COVID-19 is having on cancer-related behaviors," said co-director of the study Moon S. Chen, Jr., associate director for Community Outreach and Engagement.
The study is the first of its kind and will allow the outreach and engagement team and clinicians to better tailor how they communicate and partner with these vulnerable populations to enhance trust and better serve them. The research team's theory is that one size does not fit all.
In some instances, the researchers are making contact by phone or virtual conversations. For others, online surveys and even in-person contact is helpful. For instance, Native Americans living in rural communities often come to community health centers to pick up their medications, providing an opportunity for direct outreach.
To improve outreach and engagement of African Americans, the study team is conducting focus groups to better understand how to enhance video visits for cancer care.
"We recognize that, in terms of our approach to each of these vulnerable groups, what may work in one population may not work in others," said Associate Professor David Cooke, who heads General Thoracic Surgery and is co-directing the study. "We're attempting to meet people where they live. If they're comfortable with telemedicine, we will use telemedicine. If they prefer in-person contact, we will do that."