Prominent cancer surgeon teaching techniques around the globe
(SACRAMENTO)
Respected UC Davis Health cancer surgeon Christopher Evans has been traveling the world for more than eight years demonstrating techniques in live surgeries to audiences of experts sometimes as large as 1,000 people.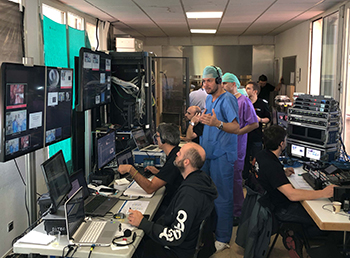 And what is he thinking about in these situations?
"Don't mess up," said Evans, chair of the Department of Urological Surgery.
He is joking, but only a little. Along with his duties as a UC Davis Health professor and surgeon, Evans demonstrates robotic prostate removals – called radical prostatectomies – around the globe – at major international conferences, in hospitals and universities as a guest surgeon, and in what was called a master class for top surgeons in 2019 at the Martini-Klinik Prostate Center in Hamburg, Germany. The center is part of Hamburg University and performs more prostate cancer surgeries than any institution in the world.
"These are high-level, experienced audiences," Evans said. "They're expert surgeons and the truth is, they want to see things go a little badly. They want to see you get into trouble to see how you'll deal with it. That's how we all learn. It's a gladiator mentality."
Until the COVID-19 pandemic, Evans traveled regulary at the request of hospitals and insitutions around the world to lecture or demonstrate surgical techniques. He is another example of how the expertise of UC Davis Health providers and researchers continues its growing global reach, influencing health care and scientific understanding around the world.
"We go and meet with every patient before the surgery to be sure they have confidence in us and in what's going to happen … They're dealing with so much and it's one of the really gratifying parts of my job to be able to help them, no matter where they are."
— Christopher Evans
In the past three years, Evans lectured or performed guest surgeries more than 250 times in 26 countries. The most recent was in Bern, Switzerland in February, a few weeks before COVID-19 put in-person surgery presentations in limbo.
"These sorts of demonstrations build an even better international reputation for UC Davis," Evans said. "It gets us on the podum at high-level meetings around the world and spreads the word about our expertise."
Evans' instructional surgeries also support the UC Davis Health education mission both in spreading knowledge and in attracting surgery fellows and others who want to continue their training with UC Davis Health.
"People watch a surgery or hear me talk and they get a sense of what we do here," Evans said. "That makes them want to come here. I've had the pleasure of training people from many countries and my next fellow is from St. Gallen, Switzerland. Our last fellow was from Germany and she was just recognized as the most accomplished urologic surgeon in Europe under age 40, an incredible honor."
The complications of teaching surgery internationally
Teaching as a guest surgeon across the globe is not without its challenges. Evans usually brings supplies to the surgery site, but often he has to adapt to equipment he does not normally use – including old generation surgical robots – and to meld with the local operating room teams who will assist.
"Surgery is a team sport," Evans said. "Some people who do this sort of thing bring their teams with them. I think part of the expereince is working with new people on the spot."
The key, he said, is the bedside assistant surgeon, who, in essence, carefully watches over the patient while Evans guides the robotoic arms. Evans starts corresponding with the person who will be his bedside assistant far ahead of the surgery and sends a video of his surgcial technique.
"They are always very gifted surgeons," Evans said. "They can also help with language issues."
That's another obvious challenge – the language barrior.
"As often as not, the scrub nurse doesn't speak English," Evans said. "Sometimes it works best if I get up and point. I speak fluent German, but I don't speak Italian, Spanish or other languages at a level to communicate in the operating room."
If necessary during some instructional surgeries, Evans' comments are translated for the audience, which can range from a few people in the operating room to the 1,000 surgeons at the Urology Course at the Fundacio Puigvert Hospital in Barcelona in October 2018. That event was a major conference with a dash of spectacle.
During his session in Barcelona, Evans performed one of three simultaneous surgeries that were beamed to huge screens in a hotel auditorium across the city. The audience wore headphones and could switch between the surgeries while two moderators sat on a stage asking the surgeons questions.
"I wore headphones so I could answer questions while I described what I was doing," he said. "There was a little bit of pressure when you're operating in front of 1,000 people."
Grateful patients
Through all of these demonstrations, Evans said he never forgets that the first reason he is doing any surgery is to help the patient.
"We go and meet with every patient before the surgery to be sure they have confidence in us and in what's going to happen," he said. "They are usually very grateful. I found that cancer patients in general are grateful. They're dealing with so much and it's one of the really gratifying parts of my job to be able to help them, no matter where they are."