Wear PJs and "Say Goodnight to Cancer" during virtual fundraiser
Fee to register for this year's Colleges Against Cancer Relay For Life at UC Davis will go toward addressing cancer disparities
The UC Davis student organization, Colleges Against Cancer, is planning a virtual "Say Goodnight to Cancer " event (PDF), which involves wearing pajamas to raise funds to fight the disease. The event is part of the American Cancer Society's Relay for Life annual event, and will be held on May 15, 2–9 p.m. live on YouTube and on Facebook.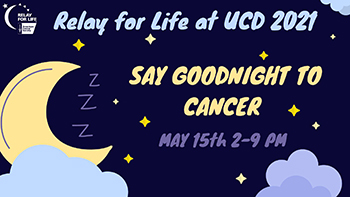 Register or donate by going to the "Say Goodnight to Cancer" event page where details about the event are also provided. This year, the registration fee for teams will go toward ACS diversity, equity and inclusion programs that help alleviate and mitigate cancer disparities.
The goal of "Say Goodnight to Cancer" is to raise $30,000 and so far, the event is far short of that with only about $3,500 raised. The COVID-19 pandemic has prevented hundreds of in-person Relay For Life events across the country, reducing the fundraising ability of ACS – the largest private funder of cancer research.
"This year, more than ever, we need to come together to make this event a success," said Seona Patel, event chair for the UC Davis Colleges Against Cancer. "Despite all of their differences in academic interests, hobbies, and career goals, the UC Davis members of Colleges Against Cancer all share the common passion of coming together to collectively lead the fight for a world without cancer."
There are two Relay For Life teams affiliated with UC Davis Health this year and both encourage participation or donations as they compete with other teams in the Sacramento region to raise the most money to fight cancer.
Love Your Lungs: Sacramento Lung Health Coalition – team captain: Alex Gori (acgori@ucdavis.edu)
UC Davis Comprehensive Cancer Center – team captain: Steph Winn (stawinn@ucdavis.edu)
Relay For Life
The American Cancer Society Relay For Life movement is the world's largest peer-to-peer fundraising event dedicated to saving lives from cancer. For over 35 years, communities across the world have come together to honor and remember loved ones and take action.
Funds raised through Relay For Life directly support breakthrough research, 24/7 support for cancer patients, access to lifesaving screenings, and much more.
Luminaria Ceremony
The annual Luminaria Ceremony typically hosted during the Relay For Life event honors loved ones who have been affected by cancer. During in-person events in the past, the luminaria bags were personally decorated and placed along the walkway for everyone to see.
This year, it is hoped that participants will order a bag online and decorate, sharing on Facebook during the "Say Goodnight to Cancer" virtual event. To dedicate a virtual luminaria bag, follow these directions.
Go to ACS to learn more about Relay For Life or email ucdrelay@gmail.com for information on getting involved with the Colleges Against Cancer at UC Davis Relay For Life event on May 15.
UC Davis Comprehensive Cancer Center
UC Davis Comprehensive Cancer Center is the only National Cancer Institute-designated center serving the Central Valley and inland Northern California, a region of more than 6 million people. Its specialists provide compassionate, comprehensive care for more than 15,000 adults and children every year and access to more than 150 active clinical trials at any given time. Its innovative research program engages more than 225 scientists at UC Davis who work collaboratively to advance discovery of new tools to diagnose and treat cancer. Patients have access to leading-edge care, including immunotherapy and other targeted treatments. Its Office of Community Outreach and Engagement addresses disparities in cancer outcomes across diverse populations, and the cancer center provides comprehensive education and workforce development programs for the next generation of clinicians and scientists. For more information, visit cancer.ucdavis.edu.