Winter 2021 Synthesis shows cancer advancements continue despite COVID-19
Lessons learned during pandemic also address health disparities in cancer prevention and care
(SACRAMENTO)
The newest edition of Synthesis, the flagship publication of the UC Davis Comprehensive Cancer Center, is now available.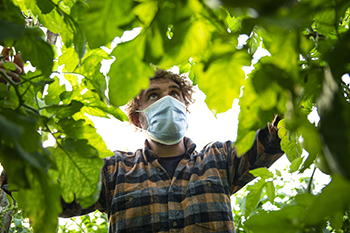 In the Winter 2021 Synthesis, readers will find inspiring stories of cancer patients who didn't let fear of the coronavirus stop them from going to their doctor. Their decision to pursue cancer care in the face of a pandemic may have saved their lives. You will also read about exciting research during the past year, which is leading to advancements in cancer detection and treatment.
Synthesis reveals lessons learned from COVID-19 in the realm of cancer health disparities: the way health outcomes are shaped by where you live, what you eat and drink, and how you make a living.
"Our vulnerable communities in the rural areas of Northern California and the Central Valley have lower household income, lower health insurance rates, and have more exposure to toxins than other areas of the state," said UC Davis Comprehensive Cancer Center Director Primo "Lucky" Lara Jr. who is executive editor of the magazine. "Synthesis reports on how we are trying to stop cancer before it starts with specific outreach to Latino, Native American, and African American communities that carry most of the regional cancer burden."
Also showcased in this issue of Synthesis is how the UC Davis Comprehensive Cancer Center is tackling the toughest of cancers, pancreatic cancer, which just this past year took the lives of admired Americans Ruth Bader Ginsburg, John Lewis, and Alex Trebek. New strategies to diagnose and treat pancreatic cancer are found only at UC Davis.
"If we can beat this cancer, we have a chance to beat any cancer," said Lara.
The current issue of Synthesis also tells the story of a new fund created in honor of a special boy named Super Fritz to help families like his manage stressors such as transportation and insurance issues that face them when their child is diagnosed with cancer.
The magazine wraps up with an article about the cancer center's new comparative oncology training program—a joint effort with the world's No. 1 ranked UC Davis School of Veterinary Medicine. The program aims to save the lives of dogs with cancer while supporting development of new therapies for both dog and human cancer patients. Don't miss meeting Josie, the bird dog, who is back on the job in the Suisun Marsh after getting a reprieve from cancer thanks to a new immunotherapy clinical trial.
Find Synthesis online or sign up to receive a free subscription delivered to your home or business.
UC Davis Comprehensive Cancer Center
UC Davis Comprehensive Cancer Center is the only National Cancer Institute-designated center serving the Central Valley and inland Northern California, a region of more than 6 million people. Its specialists provide compassionate, comprehensive care for more than 10,000 adults and children every year, and access to more than 150 clinical trials at any given time. Its innovative research program engages more than 280 scientists at UC Davis who work collaboratively to advance discovery of new tools to diagnose and treat cancer. Patients have access to leading-edge care, including immunotherapy and other targeted treatments. Its Community Outreach and Education program addresses disparities in cancer outcomes across diverse populations, and the Center provides comprehensive education and workforce development programs for the next generation of clinicians and scientists. Through the Cancer Care Network, UC Davis partners with hospitals and clinical centers throughout the Central Valley and Northern California communities to offer patients expert care close to home. For more information, visit cancer.ucdavis.edu.