104 graduating doctors celebrated virtually in 50th annual commencement (video)
Surrounded by family and friends, UC Davis School of Medicine students shared their diverse backgrounds and personal stories
(SACRAMENTO)
Saturday marked the UC Davis School of Medicine's 50th commencement ceremony, and its second in a virtual format. One hundred and four graduates took part in the momentous event from their homes with family and friends, while a small group of leaders and faculty members addressed them from the UC Davis Health campus.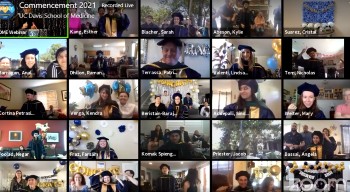 "Good morning and welcome!" Vice Dean Mark Servis greeted everyone, before acknowledging the magnitude of the past year's events.
"This class has had a remarkable journey in the last 14 months, dealing with the twin crises of a COVID-19 pandemic and racial injustice," Servis said. "Learning how to Zoom nearly every day and helping to lead social change to bring about a more equitable and just society."
To commemorate the school's "Golden Anniversary," a video of the school's history was featured, accompanied by vocals and guitar from two graduates, Yen Luu and Nick Tom. The two vocalists harmonized to James Taylor's "You've Got A Friend," as key milestones were highlighted, starting in 1965 when the Regents of the University of California voted to establish a medical school at UC Davis.
Vice Chancellor for Human Health Sciences and UC Davis Health CEO David Lubarsky joined virtually, congratulating the graduates and urging them to be lifelong learners, "because medical knowledge is doubling every 73 days."
UC Davis Chancellor Gary May also addressed the students, emphasizing that the global pandemic made it clear that health care professionals are among the "greatest heroes" and the "change agents" desperately needed to keep communities healthy.
"All I can think of at the moment is how much the world needs you," May said. "Never before has the importance of your role been so elevated in the eyes of the world."
Dean Allison Brashear referenced some of the recent changes made toward health equity, thanks to student and faculty efforts. For example, the school was among the first in the nation to eliminate race-based references in a standard kidney function test. Brashear reaffirmed the school's commitment to health equity.
"While there is a great deal more work to do, I am heartened by the changes we are collectively making as we work to create a more equitable system and tackle the larger issues of inequity and medicine as a whole," Brashear said.
The ceremony included four student speakers: Kendra Verga, Ignacio Cortina Petrasic, Kiersten Kelly and Kimberly Ngo.
Verga, a soon-to-be family medicine resident at Kaiser Permanente Sacramento, shared that several years ago, her father had been hospitalized in critical condition following a car crash. After hours of waiting anxiously at his bedside, she woke up to four missed calls and the news that she had been accepted to the UC Davis School of Medicine.
"My dad was so incredibly proud," Verga recalled, holding back tears. Sitting there hooked to IVs, he beamed with pride and told every doctor, nurse and staff member who walked into his room."
Keynote speaker Hendry Ton, associate vice chancellor for the UC Davis Health Office for Health Equity, Diversity and Inclusion, reassured graduates that despite any self-doubt or nervousness, they are ready.
"Speak out for health equity, call out injustice in all its forms and call on those around you. We have to remember that in the wake of injustice, the silence of bystanders injures just as much," Ton said. "Seek joy, find and sustain love. Climb that mountain. Paddle that river. Dance and sing in your community."
Virtual commencement gave those watching a glimpse into what many students already knew – that diversity is one of the medical school's greatest strengths. In March, U.S. News & World Report ranked the UC Davis School of Medicine No. 4 for diversity.
The ceremony, posted on Facebook, garnered more than 15,000 views. Each graduate got a chance to say thank you or tell a personal story while getting hooded. The graduates were surrounded by family members of all generations, friends, significant others, and beloved pets.
Balloons and signs reading 'Congrats grad!' filled the Zoom screens. Champagne and confetti pops rang out amongst the loud cheers, clapping and often cries of joy.
Some students spoke in multiple languages, honoring their culture and history. Others held up photos of loved ones who were no longer here to watch them accomplish this milestone.
Maria Barajas-McGahan was hooded while holding one daughter in her arm, as another daughter stole her graduation cap with a mischievous smile.
Liliana Samano thanked UC Davis for allowing her to become the first doctor in her family and said to her husband: "This degree is as much as yours as it is mine."
Marta Miguelena's mother was beyond ecstatic for her daughter's achievement, chanting, 'Si, se puede [yes we can]!" while jumping up and down.
"Never before has the importance of your role been so elevated in the eyes of the world." — UC Davis Chancellor Gary May
Esther Kang giggled with her 'Omma' or mom in Korean, exchanging lots of kisses as they took in the moment.
Liliya Klimkiv fanned her tears with one hand and held her baby in another. "Oh my gosh," she exclaimed, unable to hide her emotions.
In a sea of family members, Francis Rangel Ventura's parents stood out, wearing shirts that read "Soy un padre/madre orgulloso de uno doctora" meaning "I am a proud father/mother of a doctor." While wrapping up her speech, Ventura affirmed with pride: "I do look like a doctor!"
Alejandro Ramirez's proud mom and "number one fan" held her arm over his shoulder the entire time. Ramirez told his girlfriend and fellow graduate Lizette Rodriguez "I'm so proud of us."Spienghar Komak gave most of his speech in Pashto, a language of Afghanistan, Pakistan and Iran.
Not far behind him in the alphabetized lineup, Rodriguez dedicated her degree to her mother, who died 12 years ago.
"She's been my guiding light," Ramirez said, holding on to a photo. "It was a long road, but we're here and we did it."
After all the students were hooded it was time for the physician's oath.
First, there was a multi-language version where graduates sent in videos of themselves reciting the oath in languages including Spanish, Arabic, Bengali, Cantonese, Farsi, Hmong, Punjabi, Setswana, Tagalog, Japanese, Vietnamese, Korean and Swedish. Then, graduates were asked to recite the oath in English together.
At the end of the virtual program, it was time for the graduates to move their tassels from right to left. Now in gallery view, people watching from home witnessed the sea of medical school students officially become doctors.
"Thank you for letting us join your family, your loved ones to create some moving experiences for all of us," Servis said to conclude the program. "You are the fulfillment of the dreams and aspirations of your family and friends."
Then came the cue for everyone to un-mute: endless joyous cheers and applause for the UC Davis School of Medicine Class of 2021.
UC Davis School of Medicine
The UC Davis School of Medicine is among the nation's leading medical schools, recognized for its research and primary-care programs. The school offers fully accredited master's degree programs in public health and in informatics, and its combined M.D.-Ph.D. program is training the next generation of physician-scientists to conduct high-impact research and translate discoveries into better clinical care. Along with being a recognized leader in medical research, the school is committed to serving underserved communities and advancing rural health. For more information, visit UC Davis School of Medicine at medschool.ucdavis.edu.