Jennifer Erickson, Maria Rodriguez, Christian Dolf, and Jose Rodarte receive this month's POP Award
(SACRAMENTO)
On Thursday, October 21, Chief Administrator of UC Davis Medical Center and Chief Operating Officer of UC Davis Health Hospital Division Brad Simmons presented this month's Point of Pride (POP) Award to Jennifer Erickson, Director of Patient Flow Management Center, Police Officers Maria Rodriguez and Christian Dolf, and Security Officer Jose Rodarte. The POP Award recognizes that every day, countless actions of empathy and kindness – large and small – take place across our health system.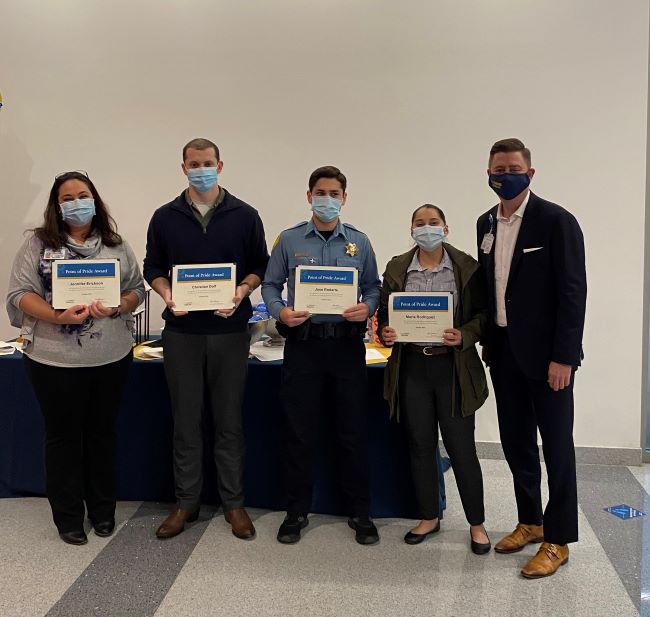 Erickson was going to her car on the sixth floor of parking structure 3 when she saw an individual laying on the raised outside ledge of the structure. She contacted the UC Davis Police Department and Rodriguez, Dolf, and Rodarte were able to quickly engage with the distraught person and restrain him from jumping. The individual was taken to the Emergency Department and given the care he needed.
"I am honored to present this group with this month's POP Award," said Simmons. "Your actions made a positive difference, and you saved this individual's life. Thank you for acting when you saw someone who needed help."
All UC Davis Health employees have the opportunity to positively impact the lives of our patients and co-workers no matter their role. Congratulations to our POP Award Winners!