New equipment helps UC Davis Health save two million gallons of water annually
Just days after joining UC Davis Health's Plant Operations and Maintenance (PO&M) team in 2018, principal engineer Bob Tomlinson was assigned an important task: replacing the University Tower medical vacuum and medical air pump equipment skids.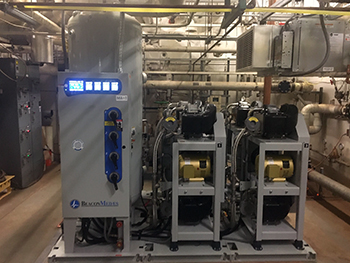 These systems work to ensure that unwanted fluids and gases are removed from lab and medical environments and only clean, medical-quality compressed air is allowed in. The old units were nearly 40 years old, inefficient and at their end of useful equipment life. The units were also water-cooled with once-through domestic water. Once-through cooling with domestic water is no longer an acceptable practice.
After 2 ½ years that consisted of design completion, plan check, bidding, construction start and months of detailed construction work along with OSHPD inspections, the old medical air pump was replaced earlier this month. Two months prior, the medical vacuum was replaced.
Tomlinson indicated that completing this project took incredible teamwork.
"Thanks to the design and construction team, construction managers, building officials and the PO&M and Facilities, Design and Construction leadership for helping me along the way," said Tomlinson. "We now have state-of-the-art equipment which are air-cooled, not water-cooled."
This project is expected to reduce the health system's annual water costs by about $12,000 and reduce annual water use by approximately two million gallons. That is enough water to serve 20 Sacramento families for a year.