UC Davis Children's Hospital Annual Report now available
From COVID-19 to craniopagus twins, children's hospital Annual Report reviews 2019-2020
(SACRAMENTO)
The latest edition of the UC Davis Children's Hospital Annual Report is now available. The publication covers a year in review from 2019-2020.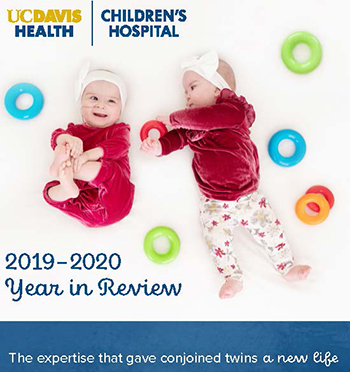 "Although these are unprecedented times, our pediatric academic medical center has been steadily going strong," said Satyan Lakshminrusimha, Diana Farmer and Judie Boehmer in their welcome letter. "We've drawn more national recognition in patient care, research and quality improvement initiatives. Recognition is important to our mission, but what we are most proud of is the extraordinary care and comfort we continue to provide to children and their families throughout the region."
The annual report includes an overview of the past year, including ways that our clinicians were leaders during the COVID-19 pandemic, patient testimonials, research breakthroughs, new distinctions and more.
View the annual report online or download the printed version.