UC Davis Health pulmonary rehab mixes science and kindness to inspire exercise during COVID-19
Training principles for patients with lung disease will work for everyone
(SACRAMENTO)
It's no news flash that people with chronic lung disease and other breathing problems are dealing with enormous anxiety levels in these COVID-19 times.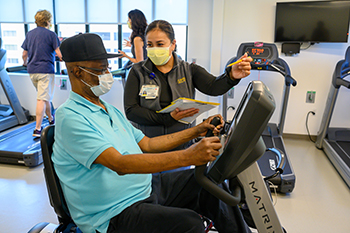 They live with an uneasy vulnerability in the best of days. Now, because they are more susceptible than most to some of the impacts of the coronavirus, many chronic lung disease patients face tough choices: Do they go to clinics for pulmonary rehabilitation? Do they exercise outside? Do they exercise or do therapy at all?
"For many of our patients, just moving can make them short of breath," said Aimee Kizziar, a respiratory therapist and pulmonary rehabilitation program supervisor at UC Davis Health. "That's a very uncomfortable and scary experience. They become fearful of moving at all, especially now."
So those people move less, which deconditions them more, making movement harder, so they move even less.
"It can become a dangerous downward spiral," Kizziar said. "COVID-19 has made some people very fearful of doing anything or going anywhere. Imagine the feeling of not being able to breath. Some of these folks live with that constantly and with the real threat it could get even worse."
The UC Davis Health pulmonary rehabilitation team helps patients work through those fears with a combination of gentle persuasion, exercise science and kindness. The way they treat and train their patients, and how their patients respond, is both inspirational and a playbook for anyone working to add more fitness to their life.
'We all want to do things that make us feel better," Kizziar said. "When we help get them exercising, they enjoy it and they enjoy their lives more. They're breathing better, not going to the ER, not needing as much medication. It becomes an easy behavioral change."
An approach that works for everyone from elderly to athletes
The UC Davis pulmonary rehabilitation clinic is not a standard gym or sports medicine center, but their principles work for everyone – careful, measured progressions guided by watchful, expert eyes. And they help provide motivation that leads to self-motivation.
Not surprisingly, COVID-19, has changed the way the program operates. Formal classes are limited to patients, referred by their physicians, who face serious pulmonary conditions and need help getting started. It has become a critical hub for patients with COPD, pulmonary fibrosis, bronchiectasis and other conditions that affect breathing. Classes have a maximum of four people to allow social distancing and for each patient to have their own therapist and equipment.
Masking, screening and disinfection all follow UC Davis Health and Centers for Disease Control and Prevention guidelines.
"We want to be certain everyone is safe, and that they feel safe," Kizziar said.
New patients are evaluated for everything from oxygen saturation and shortness of breath to balance and upper and lower body strength. Then, each program is tailored to that baseline. The goal is steady – but not rushed – progress.
"Initially, they come in nervous. They don't have the knowledge about what to do," Kizziar said. "Our goal is to be sure they see their progress and to give them the knowledge about how to continue it. The knowledge can be healing. They know what they're trying to achieve and how to get there."
Exercise plans drawn for each patient
Some patients might start by doing gentle exercises while sitting, then progress to standing and walking on a treadmill. They may move from a recumbent bike to a sitting bike and stair climber. Meanwhile, they're also slowly building strength in their upper and lower body and core.
"They're doing things they didn't think they could do, and they're enjoying it."
— Aimee Kizziar
"Our principles are the same as if they were trained athletes," Kizziar said. "Everyone does the amount they can handle, and we progress in the way that is right for each person. Going too fast might cause a setback."
The general goal is to progress 10% per week.
"But everyone is different," Kizziar said. "Somebody might start at 10 minutes on the treadmill, someone else might start at 30 seconds."
Fitness equals motivation equals fitness
As patients increase their ability to handle the time and intensity of workloads, most also become even more motivated.
"They're doing things they didn't think they could do," Kizziar said. "And they're enjoying it. They're more confident and their knowledge about caring for themselves is increasing."
During the COVID-19 pandemic, the pulmonary rehab team runs a series of maintenance meetings for more experienced patients via Zoom. Those regularly draw 15 to 20 people per call. These may include demonstrations, guidance on resistance exercises, workouts together, even a yoga class.
"They've become friends who are going through the same issues," Kizziar said. "They help motivate and support each other."
Sometimes that motivation is to simply keep moving at home while they shelter against COVID-19. Kizziar's team advises their patients to keep moving, whether it's simply getting up and walking around the house during TV commercials or doing short sets of sit-to-stand repetitions.
"Exercise is so important, especially now," she said. "Not just for our patients, for everyone. We're sheltering at home, moving less and eating more. Exercise can feel like a chore. I tell our people just put on your favorite music and dance."
Kizziar said the efforts and commitment of patients is as much an inspiration to the pulmonary rehab team as it is to their patients.
"Many people have a hard time getting motivated without a lung condition," she said. "These patients have difficulty breathing as well as other issues, but they still come and put themselves through it. Try running at high altitude, that's what it's like for them every day all the time. Yet they still put in the work. They still do it."
Related stories and resources
Pulmonary rehab is exercise therapy and much more
Higher temps, reduced air quality and COVID-19 are a triple threat for those with chronic lung disease
At UC Davis, singing is powerful medicine [VIDEO]
About pulmonary care at UC Davis Health