UC Davis School of Nursing rises in U.S. News & World Report top graduate nursing program rankings
(SACRAMENTO)
The Betty Irene Moore School of Nursing at UC Davis ranks among the top 40 of the best master's-degree nursing programs, according to the U.S. News & World Report 2021 Best Graduate Schools. The publication ranks the UC Davis School of Nursing's Master's Entry Program in Nursing and master's-degree leadership program as 40th, up six spots from last year's rankings and tied with four other programs.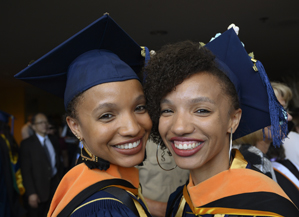 "I'm delighted that our School of Nursing continues to be recognized by our peers as a leading educator in graduate nursing degree programs," Dean Stephen J. Cavanagh said. "In times like these, educating the next generation of health care leaders is more important than ever before. We continue to build on our vision of bold system change and improving health care for all."
This year, the school marks a decade of discovery since opening the doors to its first graduate students in 2010. All five of the graduate degrees offered at the School of Nursing, including a master's degree for family nurse practitioners, a master's degree in leadership, the Master's Entry in Nursing Program, a doctoral program and a master's degree for physician assistant studies, emphasize problem solving, independent thinking and individual accountability to empower students to fulfill their learning needs and prepare them as leaders in health care.
Faculty and students work together to create environments that promote leadership, interprofessional education, transformative research and cultural inclusiveness. More than 550 alumni make an indelible impact on the clinics, classrooms and communities in which they serve. They embody and enact the vision of the school's founders from bedside care to individuals and families to bold changes in health care systems across California and the nation.
For the Best Nursing Schools rankings, U.S. News surveyed the 603 nursing schools with master's-degree or doctoral programs accredited by either the Commission on Collegiate Nursing Education or the Accreditation Commission for Education in Nursing. Of those who participated, 236 provided enough data to be included in the rankings. The rankings are based on a weighted average of 14 indicators, including peer assessment, faculty credentials and achievements, student-faculty ratio and research activity.
The complete Best Graduate Schools rankings are available on the U.S. News & World Report website.
To learn more, visit the School of Nursing website.
About the Betty Irene Moore School of Nursing at UC Davis
The Betty Irene Moore School of Nursing at UC Davis transforms health care through interprofessional nursing education and research. Established in 2009 through a $100 million grant from the Gordon and Betty Moore Foundation, the school offers five graduate areas of study, including doctoral and master's-degree programs in nursing science and health-care leadership and master's-degree programs for pre-licensure nurses, family nurse practitioners and physician assistants, with a focus on preparing primary-care providers for rural and underserved communities. The Betty Irene Moore School of Nursing is part of UC Davis Health, an integrated, academic health system encompassing the UC Davis School of Medicine, UC Davis Medical Center and the UC Davis Medical Group. For more information, visit nursing.ucdavis.edu.