Army veteran's military service fueled passion to care for the underserved
(SACRAMENTO)
Elisa Garcia entered the U.S. Army to grow her confidence and expand her educational opportunities.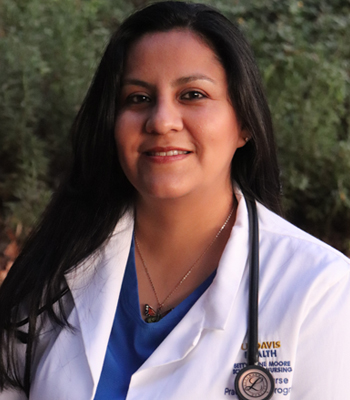 Having left her life in Mexico, where she was studying to become a psychologist, she arrived in Sacramento knowing very little English, but dreaming of big things for her future.
"I had many insecurities with my poor language skills and heavy accent. But I wanted to be independent," Garcia said. "So, I joined the military, put myself in front of other soldiers, learned the language and trained them to save lives."
In Texas, at Fort Hood, her superiors recognized Garcia's strengths in health care. She worked at an outpatient clinic getting soldiers healthy and trained before they deployed.
"In combat casualty training, you realize how small interventions can save the lives of others in combat. Just putting on a tourniquet or knowing how to do a needle chest compression makes a huge difference," Garcia explained. "I was training others, so they could live."
Garcia said the Army's core values guided her while serving. After four years in the service, she continued her health care training and earned a Bachelor of Science in Nursing.
Attracted by the Betty Irene Moore School of Nursing's core values, such as leadership and diversity and inclusion, Garcia chose to come to UC Davis to become a family nurse practitioner.
"Elisa embodies the core values of the school," said Kathryn Sexson, director for the family nurse practitioner program. "It is students like her, with her insatiable desire to learn, her commitment to excellence and her vision for helping her community to enhance equity in health care through innovation and leadership, that we will narrow the gap."
Her next goal: learn all she can, then take that knowledge back to serve rural communities, care for migrant families and influence health care policy.
"The military built my character and taught me personal courage," Garcia said. "Deciding to become a nurse practitioner is just another way I'm stepping outside my comfort zone to make care better for my community and change the health care system."