UC Davis nursing professor named Gerontological Society of America fellow
(SACRAMENTO)
Assistant Professor Fawn Cothran of the Betty Irene Moore School of Nursing at UC Davis is among the 33 new fellows of the Gerontological Society of America (GSA). Leaders of the nation's largest interdisciplinary organization devoted to the field of aging honored this year's class at the GSA's Annual Scientific Meeting held virtually Nov. 4-8.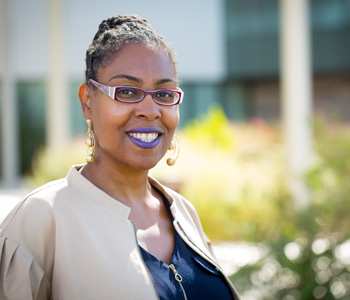 As an assistant professor in the Family Caregiving Institute, Cothran conducts research focusing on the stresses that affect African American family caregivers. Because caregivers may deny feeling stressed, Cothran is seeking funding to analyze blood and saliva of caregiver study participants to scientifically document and measure stress levels. She plans to develop interventions to help reduce stress and demands on caregivers while respecting cultural values.
"It is an honor for me to be recognized by peers for my commitment to advance the field of gerontology and ongoing work within the society," said Cothran, a new fellow in the Health Sciences division. "This distinction will help move my research forward by providing the opportunity to expand my network and engage in interesting and innovative work with colleagues."
In her current research, Cothran collaborates with numerous faculty members in the School of Nursing and the UC Davis Alzheimer's Disease Center. She collaborates with researchers with expertise in gerontology, medical sociology, neurology, Alzheimer's disease, health disparities, statistics, geriatric psychiatry and public health. She is also a fellow in the inaugural class of the Betty Irene Moore Fellowships for Nurse Leaders and Innovators.
"Dr. Cothran's recognition is for her outstanding and continuing work in the field of gerontology and it also says much about the work we're doing here at the School of Nursing," added Dean Stephen Cavanagh. "We are investing in and building a team that is contributing to research, education and to the care for older adults in a timely, relevant and impactful way."
The status of fellow — the highest class of membership within the society — is an acknowledgment of outstanding and continuing work in gerontology. This recognition can come at varying points in an individual's career and acknowledges a broad scope of activity. This includes research, teaching, administration, public service, practice and notable participation within the organization. Fellows are chosen from each of GSA's four membership sections.
GSA is the nation's oldest and largest interdisciplinary organization devoted to research, education and practice in the field of aging. The principal mission of the Society — and its 5,500+ members — is to advance the study of aging and disseminate information among scientists, decision makers, and the public.