American College of Psychiatrists honor Francis Lu with Distinguished Service Award, Helen Kales with research award
At its annual meeting in 2022, the American College of Psychiatrists will present a pair of UC Davis psychiatrists with awards recognizing their extraordinary contributions to the field. The nonprofit honorary association comprises 750 practicing psychiatrists who have demonstrated outstanding competence and national recognition for their work.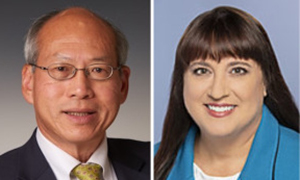 Last month, the College announced that Francis Lu, the Luke & Grace Kim Professor of Cultural Psychiatry, Emeritus, has been honored with the Distinguished Service Award for his significant achievements and leadership. Helen Kales, chair of the Department of Psychiatry and the Joe Tupin Endowed Chair in Psychiatry, was named the recipient of the Award for Research in Geriatric Psychiatry.
Lu, a Distinguished Life Fellow of the American Psychiatric Association (APA), is a leading light in cultural psychiatry, contributing to scholarship on the interface with religion/spirituality, psychiatric education, diversity/inclusion, mental health equity, and psychiatry/film – while also mentoring countless psychiatrists in their careers.
As evinced by his work at the Asian American Center on Disparities Research and the Center for Reducing Health Disparities at UC Davis, Lu has placed special emphasis on cultural competence and mental health disparities, especially as they pertain to Asian/Pacific Islander populations. From 2002 to 2019, Dr. Lu served on the APA Council on Minority Mental Health and Health Disparities.
For his myriad contributions to the field, Lu was awarded APA Special Presidential Commendations in 2002 and 2016 and the American Psychiatric Foundation's Advancing Minority Mental Health Award in 2008. Last year, the Society for the Study of Psychiatry and Culture honored Lu with a Lifetime Achievement Award.
Kales, internationally renowned for her insights on geriatric mental health services, has researched the outcomes of neuropsychiatric symptoms of dementia, development of tools for helping dementia care-giver distress, late-life depression care adherence, and racial disparities in mental health treatment and outcomes.
Appointed to the Lancet Commission on Dementia (which yielded a 2017 landmark report linking science, practice, and policy), Kales is highly regarded for research that is pragmatic, humanitarian, and policy-relevant – reflecting her transdisciplinary expertise across psychiatry, neurology, internal medicine, epidemiology, and medical anthropology.
One of her most important achievements is the co-creation of the DICE Approach™, which mirrors the clinical reasoning process used by dementia behavior experts to assess and manage BPSD (behavioral and psychological symptoms of dementia), and was created to assist family caregivers in identifying, monitoring and managing behaviors while also addressing caregivers' motivation and skills.