Striving to improve care for people experiencing homelessness - locally and statewide
Clinical neuropsychologist Angela Drake will lead UC Davis Health team in new California Health Care and Homelessness Learning Community
(SACRAMENTO)
A team from UC Davis Health is joining a new statewide collaboration with nearly two dozen organizations that's aimed at improving health care for Californians who are experiencing homelessness.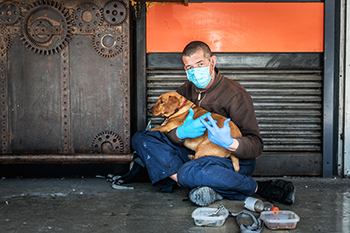 The California Health Care and Homelessness Learning Community is being coordinated by the Center for Health Care Strategies, with funding from the California Health Care Foundation.
Angela Drake, clinical professor in the Department of Psychiatry and Behavioral Sciences, will lead the UC Davis Health team, which also includes two physicians and a nurse who provide direct care and clinical services to people experiencing homelessness. They also support the development of innovative new programs that serve the needs of those individuals in Sacramento County.
"California has about 70% of homeless individuals in the entire country," said Drake, who's also a clinical neuropsychologist. "It's a startling figure, and it's an issue that every community in the state - large and small - is grappling with."
Finding Solutions to Homelessness in Sacramento
That's why she also jumped at the opportunity to represent UC Davis Health on the Project Review Committee of Sacramento Steps Forward, a local nonprofit that emphasizes partnerships to address homelessness.
"Homelessness creates tremendous health issues for the entire community and we believe that it should be considered a public health issue, especially within the current pandemic," said Drake, who will review and provide recommendations related to funding new programs and projects that improve housing options and health care services.
"Defining homelessness as a public health issue may help reduce the tendency to 'otherize' the problem – as in, 'It's not my problem' – because it impacts everyone in the community in major ways."
Statewide collaboration
On the statewide level, the California Health Care and Homelessness Learning Community will include a year-long series of virtual meetings and collaborations to share best practices and insights about how to improve care for the vulnerable homeless population. The first meeting was held Nov. 20.
There are two learning tracks: a provider track (which UC Davis Health is part of) and a managed care plan track. The two groups will share their findings using a shared platform. Goals, according to the Center for Health Care Strategies, include identifying collaboration and information-sharing opportunities, connecting stakeholders and identifying high-priority areas on which to focus.
"It's a unique opportunity to learn from each other and share different perspectives, statewide. I'm really looking forward to the two tracks coming together because I don't think anything like this has ever been done," Drake said.
"We've got to come together if we're going to figure out the way forward. We can't just keep trying to do our own thing."
— Angela Drake
Keeping people out of crisis
This isn't a new area for Drake. Her work at UC Davis Health also focuses on issues related to health and homelessness, and she previously worked at the Veterans' Village of San Diego, a unique residential and treatment facility for homeless veterans.
"I'm interested in the intersection of health care and homelessness. How can we keep people out of crisis? How do we keep folks healthy, even if they're living in an encampment? We need to focus on supporting good health care and health, regardless of someone's current housing situation," she stressed.
Drake notes that advocates have major concerns about an increase in homelessness due to COVID-19 and its economic fallout, which makes it even more important to collaborate now.
"We've got to come together if we're going to figure out the way forward. We can't just keep trying to do our own thing," she said.