Drowning victim gets to swim again thanks to UC Davis PICU
(SACRAMENTO)
It was a quiet weekday in February 2018. Amber Cunha was putting away supplies following an afternoon of crafts with her 19-month-old daughter Avery. She returned to find the sliding glass door open. Where was Avery? Face down in the family's pool.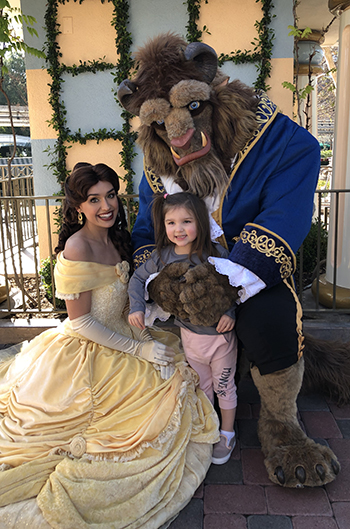 Amber jumped in, pulled Avery out, dialed 911 and began performing CPR. Paramedics took Avery to a nearby hospital, her heart stopping twice. She needed 37 minutes of CPR and five rounds of epinephrine to be stable enough to be lifeflighted to the Pediatric and Cardiac Intensive Care Unit (PICU/PCICU) at UC Davis Children's Hospital. The PICU/PCICU treats infants, children and adolescents who experience life-threatening infectious diseases or traumatic injuries, as Avery did. She was in critical condition.
And that was just the beginning of this family's terrifying journey. Unable to eat or swallow, Avery required a feeding tube. A breathing machine and heart monitor kept her alive. IV tubing snaked everywhere.
"It was so frightening to see her like that," Cunha said. "There were just so many tubes, so much equipment."
Although MRI results showed no brain damage, Avery struggled to maintain head control and was unable to sit, roll over or speak. Her eyes could not track objects.
"It was like having a 6-month-old baby again," Cunha said.
But this tenacious little girl was alive and she wasn't through yet. Neither was her care team.
Specialists in speech, physical and occupational pediatric rehabilitation got to work, helping Avery relearn everything.
"Avery couldn't speak and then two months later, she could yell, 'Mama!' across the room and say, 'Thank you,'" said speech therapist Michelle Ramirez. "It was an amazing experience for our rehab team to see her make daily gains."
These gains enabled Avery to return home, where she continues to thrive more than two years later.

"I cannot thank the health care team at UC Davis Children's Hospital enough for saving my daughter's life," Amber said. "I am so grateful to have my daughter back. She is the same happy girl she was before."
UC Davis Children's Hospital is the Sacramento region's only nationally ranked, comprehensive hospital providing care for infants, children, adolescents and young adults with primary, subspecialty and critical care. It includes the Central Valley's only pediatric emergency department and level I pediatric trauma center, which offers the highest level of care for its critically ill patients, as well as a level I children's surgery center. The 129-bed children's hospital includes the state-of-the-art 49-bed neonatal and 24-bed pediatric intensive care and pediatric cardiac intensive care units. For more information, visit children.ucdavis.edu.