Achy back, stiff neck or tingling wrist? It's time to reevaluate your workstation setup
Whether you're returning to the office or trying to set up a better remote workstation, proper ergonomics are a must to alleviate stress and strain, enhance productivity and reduce the chances of injury.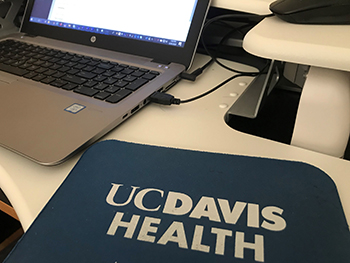 The following Q&A with the ergonomics specialists at UC Davis Health includes vital information that can help you optimize your workstation – at a remote location or in a health system facility.
Q: What should I do if I'm experiencing minor physical discomfort from my workstation setup, whether at a UC Davis Health location or working remotely?
A: Begin with the ergonomic self-assessment course on the UC Learning Center (search for "Healthy Working: Ergonomics"; code: DAHS-ERGO-ECO) and (re)assess your workstation. For additional information, feel free to contact the Ergonomics Unit at requestergonomics@ucdavis.edu.
Q: Are on-site ergonomic evaluations offered for remote/home offices?
A: The Ergonomics Unit provides virtual consultations for remote offices. In-person evaluations are still an option for on-site workstations, following established safety protocols. Contact the team at requestergonomics@ucdavis.edu.
Q: Can I replicate the ergonomic features of my office equipment at home?
A: The Ergonomics Unit can provide creative ways to help you adjust your workspace to increase comfort.
Q: Am I eligible for discounted equipment and furniture from UC Davis Health vendors?
A: Yes, visit the Home and Auto Discount page on the HR website for more information.
Q: Am I allowed to take ergonomic items from my office for use at home?
A: Talk with your supervisor about your specific situation. Use proper lifting techniques and get help for larger items such as chairs.
Q: What are some tips for working from a laptop?
A: If a laptop is used for extended periods of time a separate keyboard and mouse should be used. Elevating the monitor can help reduce eye and neck strain.
Q: What are other ways to maintain a healthy working environment while working remotely?
A: Be sure to check out these additional ergo tips (PDF), provided by the UC Davis Health Ergonomics Unit.