Congratulations to the new Chief Wellness Officer: Sara Aghamohammadi, M.D.
(SACRAMENTO)
Sara Aghamohammadi, M.D., Department of Pediatrics, has accepted the role of Chief Wellness Officer (CWO) of UC Davis Health, effective July 1, 2022.
Sara will lead and direct our wellness and well-being programs and initiatives for the medical staff and the health system. As the CWO, she will oversee the Medical Director of Physician Coaching and Onboarding within the Division of Clinical Affairs and collaborate with health system leaders to identify, develop, operationalize, and implement strategies and initiatives that target improvement in our culture of wellness, the efficiency of practice, and personal resilience.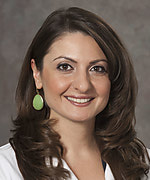 Sara graduated from the University of California, Berkeley, and attended medical school at Oregon Health and Science University. She completed her Pediatrics residency and Pediatric Critical Care fellowship at Children's Hospital of Los Angeles (CHLA). Sara has more than eight years of experience as a Pediatric Critical Care Attending at UC Davis Children's Hospital and Shiners Hospital for Children. She has a long-standing passion for health and well-being that began during residency and has continued through her career. During her time at CHLA, Sara co-created a Resident Wellness support group and a Fellow's Reflection Conference, which serves as a safe space to discuss the emotionally difficult aspects of the subspeciality.
Sara currently serves as the Chair of the Pediatric Wellness Committee and is also a Department Wellness Champion at UC Davis Health. Under the leadership of Albina Gogo, M.D., Peter Yellowlees, M.D., and Katren Tyler, M.D., Sara has strengthened her understanding of the psychological ailments and indicators of physician burnout while she worked to incorporate Physician Peer Supporters within the SupportU network, established resident and fellow wellness subcommittees, and collaborated to establish the Annual Dr. Albina Gogo Wellness Grand Rounds in the 2020-2021 academic year. She has also given many lectures on the importance of physician health and wellness and has provided mentorship to students, trainees, and faculty interested in wellness through the Clinician Health and Well-being Fellowship and within the Department of Pediatrics.
We look forward to the expertise and knowledge Sara will bring to the team and the work she will do to support the well-being of our employees. Congratulations, Sara, on the new role!