Diamond Doc Award recognizes exceptional patient care
(SACRAMENTO)
On Tuesday, August 3, chief executive officer David Lubarsky, chief administrator Brad Simmons and chief medical officer Doug Kirk presented 52 UC Davis Health physicians with the Diamond Doc Award. The award recognizes the voice of our patients. It celebrates physicians who demonstrated careful listening, clear explanations, and respectful partnerships and who received the 90th percentile or higher in the hospital consumer assessment of health care providers (HCAHP) survey for the third quarter of the fiscal year 2021.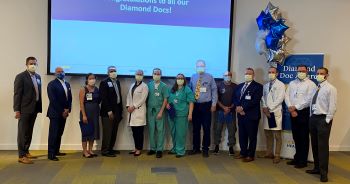 "This award reflects the voice of the patient and their experiences," said Dr. Kirk. "Thank you for putting our patients at the center of everything you do. Your care is one of the reasons we have been named Sacramento's #1 hospital for the last decade."
Congratulations to our UC Davis Health Diamond Docs!
| | |
| --- | --- |
| Physician | Specialty |
| MEHRDAD ABEDI, MD | Hematology Oncology |
| EDRIS AMAN, MD | Cardiovascular Medicine |
| MARIA ANDERSON, MD | Obstetrics and Gynecology |
| DAVID BARNES, MD | Emergency Medicine |
| ARNAUD BEWLEY, MD | Otolaryngology |
| ORIN BLOCH, MD | Neurological Surgery |
| LISA BROWN, MD | Thoracic Surgery |
| ROBERT BYRD, MD | Pediatrics |
| MICHAEL CAMPBELL, MD | Surgical Oncology |
| CAROLINA CANDOTTI, MD | Hospital Medicine |
| DAVID COOKE, MD | Thoracic Surgery |
| ERIC CROSSEN, MD | Pediatrics |
| JOHN DORSETT, MD | Physical Medicine and Rehabilitation |
| JONATHAN EASTMAN, MD | Orthopaedic Surgery |
| JULIUS EBINU, MD | Neurological Surgery |
| SABRINA EVANS, MD | Hospital Medicine Surgery |
| ELLEN FITZPATRICK, MD | Orthopaedic Surgery |
| RAMINDER GILL, MD | Pulmonary, Critical Care and Sleep Medicine |
| CHERIE GINWALLA, MD | Pediatrics |
| MAURO GIORDANI, MD | Orthopaedic Surgery |
| LUIS GODOY, MD | Thoracic Surgery |
| KIMBERLY HARDIN, MD | Pulmonary, Critical Care and Sleep Medicine |
| RASMUS HOEG, MD | Hematology Oncology |
| HERSHAN JOHL, MD | Pulmonary, Critical Care and Sleep Medicine |
| BRIAN JONAS, MD | Hematology Oncology |
| RUSSELL JONES, MD | Emergency Medicine |
| LAURA KAIR, MD | Pediatrics |
| KEVIN KEENAN, MD | Neurology |
| KENNETH KELLEY, MD | Emergency Medicine |
| MANOJ KESARWANI, MD | Cardiovascular Medicine |
| ERIC KLINEBERG, MD | Orthopaedic Surgery |
| ZACHARY LUM, DO | Orthopaedic Surgery |
| LINDSEY MALIK, DO | Cardiovascular Medicine |
| ALLAN MARTIN, MD | Neurological Surgery |
| CHRISTINE MCBETH, DO | Emergency Medicine |
| SARAH MEDEIROS, MD | Emergency Medicine |
| MATTHEW MELL, MD | Vascular Surgery |
| DANIEL NEUDORF, DO | Physical Medicine and Rehabilitation |
| JENNIFER OZEIR, MD | Obstetrics and Gynecology |
| VICTOR RODRIGUEZ, MD | Vascular Surgery |
| JASON ROGERS, MD | Cardiovascular Medicine |
| JUNICHIRO SAGESHIMA, MD | Transplant Surgery |
| AJAY SAMPAT, MD | Neurology |
| KIARASH SHAHLAIE, MD | Neurological Surgery |
| VOLTAIRE SINIGAYAN, MD | Hospital Medicine |
| STEVEN THORPE, MD | Orthopaedic Surgery |
| SAMUEL TURNIPSEED, MD | Emergency Medicine |
| JOSEPH TUSCANO, MD | Hematology Oncology |
| DEBRA WRIGHT, MD | Obstetrics and Gynecology |
| CLARA YANG, MD | Hospital Medicine |
| SCOTT ZAKALUZNY, MD | Trauma Surgery |
| YAN ZHAO, MD | Obstetrics and Gynecology |