Grants offered for multidisciplinary research targeting pain relief
(SACRAMENTO)
The UC Davis Center for Advancing Pain Relief (CAPR) is offering seed grants to multidisciplinary teams interested in developing innovative solutions for pain management. The awards of up to $25,000 are intended to catalyze collaborations across UC Davis colleges, schools and centers. The goal is to alsolay the groundwork for attracting larger-scale external funding.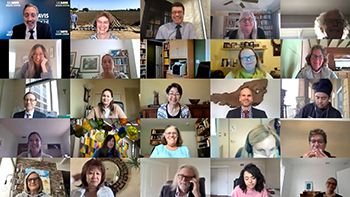 "The impact of pain is being addressed by all quadrants on campus," said Scott Fishman, vice chair in the Department of Anesthesiology and Pain Medicine and director of the center. "We hope the seed grants can inspire collaborations outside the typical academic silos and create innovative approaches to restoring wellness."
CAPR is a first-of-its-kind center for education, research, clinical care and policy, committed to breaking down barriers that impede progress toward safer and more effective pain relief.
The grants were announced March 3 during the center's Advancing Pain Relief Virtual Symposium. More than 100 participants tuned into the free half-day event showcasing multidisciplinary pain management programs and projects from the Davis and Sacramento campuses.
Chronic pain affects more than 50 million adults in the U.S. A Centers for Disease Control report estimates that chronic pain costs $560 billion a year in lost productivity and medical and disability costs.
Pain is the most common reason a person goes to a healthcare practitioner, according to Fishman. "Yet in many ways, we've ignored pain largely because of the fragmentation of our healthcare systems. We have reduced healthcare to its parts. When we do that, we lose that wholeness of a person that's so important to pain relief and pain management," he said.
Grant proposals should focus on research or significant program development in at least one of these areas: pain, suffering, wellness or quality of life. Preference will be given to proposals with two or more people from different UC Davis departments, centers, or primary disciplines or professions. Additional partnerships with university-based or external groups are also welcome. The funding is for one year beginning July 1, 2021.
Questions about the grants can be directed to CAPR's Associate Director Kate Lorenzen at kllorenzen@ucdavis.edu. The request for proposal is available for download here or via CAPR's website. The submission deadline is May 1, 2021, by 5:00 pm PST.
Related stories:
Researchers at UC Davis are developing new understandings about pain and pain management.