Patient from Hawaii calls his UC Davis Health surgeon 'the magician'
Kee Kim's expertise in complex spine care is acclaimed throughout the U.S.
(SACRAMENTO)
John Veneri says his UC Davis surgeon is much more than a surgeon. He calls him "the magician."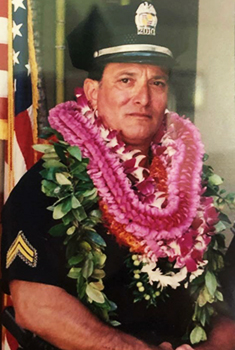 After three spinal surgeries failed to ease his pain or increase his mobility, he took to the Internet to find a new solution. That and the recommendation of a family friend led him to Kee Kim, chief of spinal neurosurgery and co-director of the spine center at UC Davis Health.
"I was willing to go anywhere at that point, but I liked Dr. Kim because he was thoughtful, straightforward and not afraid of a challenge," said Veneri, a retired police officer who lives in Hawaii. "I was blessed to find him."
Kim specializes in advanced treatments for complex spinal conditions caused by trauma, disease or wear-and-tear over time. He is known for his skill with microscopic and robotic-assisted surgeries that precisely target injured bone and tissue while preserving healthy bone and tissue. His practice attracts patients from throughout the U.S. Many of them are frustrated by procedures that didn't work well or by the many medications they need to relieve back and neck pain.
Despite Veneri's multiple procedures and continued symptoms ― including left side leg pain, foot numbness and increasing falls ― Kim knew he could help. After a few video visits with Veneri, consulting with his primary care physician ― Melanie Arakaki ― and reviewing a CT and MRI, Kim recommended one more procedure. This one to remove pressure on nerves at the L3-4 and L4-5 discs caused by stenosis, or tightening of the spaces between bones of the spine.
Veneri had just one question for Kim: "How soon can we do this?"
He traveled to California in August and, because of the COVID-19 pandemic, quarantined for two weeks in a hotel near UC Davis Medical Center. The procedure took place Aug. 19. After one night in the hospital and a couple more days in the hotel, he went home to Hawaii.
Even while still in the hospital, Veneri could tell his back was better. He could walk without help on the day of his procedure. Back home, he continued to improve and do things he hadn't done in months, like move his toes and walk comfortably without a brace. His life today is what he hoped it would be ― working as a private investigator, enjoying visits with his two sons, helping with his granddaughter's virtual schooling, and tending to his nine acres of land and cattle. Although eager to get back to lifting weights, he is following Kim's advice to stick with walking as his primary exercise for now.
"Dr. Kim did exactly what he said he would do for me," Veneri said.
When they met in person the first time, Veneri gave Kim a box of special shortbread and chocolate cookies as a gesture of kindness known in Hawaii as omiyage.
"After he worked his magic on me," Veneri said, "I sent him a much bigger box of cookies."