Specialty pharmacy honored for high patient-satisfaction ratings
(SACRAMENTO)
UC Davis Health Specialty Pharmacy has been honored for high patient-satisfaction ratings by the National Association of Specialty Pharmacy (NASP), which conducts patient-satisfaction studies for specialty pharmacies around the country.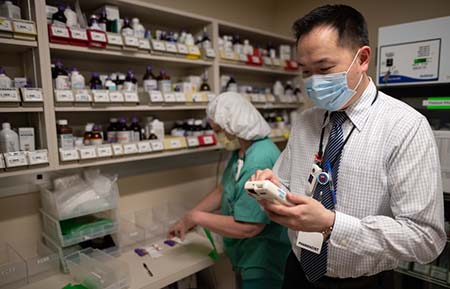 UC Davis received a net promoter score of 88.1, the highest score the specialty pharmacy department has ever received. It's also the second highest in the nation among accredited specialty pharmacies who took part in the survey. In comparison, the industry standard score for specialty pharmacies is 66. The net promoter score measures how many customers or patients would recommend your services minus the ones who would not.
"These ratings are a testament to the personalized care our team provides our patients. Our staff speak to the same patients every month and build a long-term relationship which helps build trust and meet patient needs. We often receive positive feedback from patients calling out pharmacy technicians staff by name, which is a testament to the bond built between patients and staff," said David Mitchell, senior pharmacist manager of Specialty Pharmacy. "Our well-trained and knowledgeable team work hard to always put patients first and this recognition validates the superior service they provide patients every day."
NASP has developed a recognized industry-standard patient satisfaction survey. It addresses the unique drivers of patient engagement and satisfaction aligning with the goal of supporting specialty pharmacies with accurate data and insights, fostering continuous improvement, and enhancing the patient experience and outcomes.
"Since the NASP Patient Satisfaction Survey Program is benchmarked, it allows us to compare ourselves against other specialty pharmacies on different metrics," explained Mitchell. "Therefore, the survey serves as a tool for quality improvement and provides us with ways we can improve as a department."
Specialty pharmacy focuses on high cost, high touch medication therapy for patients with complex disease states. Medications in specialty pharmacy range from oral to cutting edge injectable and biologic products.
UC Davis Health launched its specialty pharmacy program in 2010. It provides clinical pharmacy services in the following areas:
Cardiology
Dermatology
Endocrinology
Gastroenterology
Hepatology
Infectious Diseases
Neurology
Oncology
Pulmonology
Rheumatology
Solid Organ Transplant
"The focus of Specialty Pharmacy is providing personalized and patient-focused service," said Mitchell. "Our highly trained staff members work closely with patients to discuss treatment plans and address any questions or concerns they may have. We stay in close contact with them during their treatment and serve as healthcare advocates to help ensure the best therapy outcomes."