Thank Goodness for Staff goes virtual May 17-21 to share appreciation, fun
UC Davis Health appreciates the dedicated employees across the health system every day of the year, but every year a special week of festivities and fun underscores that immense gratitude: Thank Goodness for Staff (TGFS).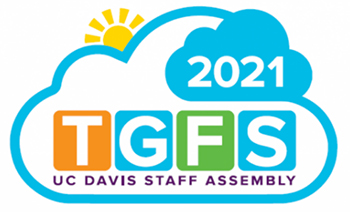 This year's virtual TGFS, slated for May 17-21, features a mix of professional development and networking opportunities and family-friendly, creative, and fun events – brought to you by the amazing Staff Assembly team and partners.
Ongoing Events
Talent Show
Submit an original video or photograph of your special talent by Wednesday, May 12! Entries will be put on display for the staff to vote upon during Thank Goodness for Staff, May 17-21.
Prizes will be awarded to the person that receives the most votes in each category. View the Talent Show event page to learn more about the requirements and how to submit your talent.
Talent show categories:
Art: photography, painting, drawing, etc.
Culinary: Recipes, cooking demonstration
Movement: dance, sports tutorial
Music: sing, play an instrument, write music
Don't Miss: Drawings and Discounts

Gift card drawing: As a thank-you to staff, hundreds of $25 and $50 gift cards to Raley's, Dos Coyotes, and Selland's will be given away! Be sure to click here to enter the drawing, before the end of TGFS Week.

UC Davis Store discounts: Use the promo code TGFS2021 at the online store for free ground shipping on any purchase over $25. Visit this page for special limited-time sales.
Scavenger Hunt
How many items can you find? Find as many as you can from the scavenger hunt list and win prizes! There is no pre-registration for this event. Tasks will be released daily on the TGFS website. Each item you find and submit on the scavenger hunt list will serve as an entry into a raffle for a pair of AirPods.
*Please note: Giveaway described on TGFS website and drive-in movie are limited to Davis campus staff.
TGFS Week Events
Register here to attend the following virtual events. For Office for Health Equity, Diversity, and Inclusion events, visit the OHEDI website.
Monday, May 17
Kickoff Event and Keynote (4–5 p.m.)
Remarks from Chancellor Gary S. May, and a keynote address from Shola Richards, "Unstoppable Resilience: The Keys to Staying Strong During Any Crisis."
Tuesday, May 18
Five Clues to Your Talents (1–2 p.m.)
Imagine the possibilities if we could better articulate what we do best, and intentionally use those talents at work (every day!). The session will include use of breakout sessions within the online platform to allow for conversation and deeper learning.
Full Body Pilates (4–5 p.m.)
Join Campus Recreation and Unions for a full body pilates class on Facebook Live.
Wednesday, May 19
Coaching Skills for Leaders – Creating Inclusive Spaces (10–11:30 a.m.)
Visit the Organizational Excellence website for more information.
Latinx Staff and Faculty Association General Meeting (Noon–1 p.m.)
Join the Latinx Staff and Faculty Association for their monthly general meeting.
Rainbow's Reign: Queer & Trans Mixer (4–5 p.m.)
All are welcome for trivia, conversation, and community focused on LGBTQ staff experiences. The Chancellor's Committee on Lesbian, Gay, Bisexual, Transgender, Queer, Intersex, and Asexual Issues (CCLGBTQIA) is hosting this event.
La Pandemia y la Salud Mental (4:15–5:15 p.m.)
Three-part webinar with the American Mexican Association; visit the Office for Health Equity, Diversity, and Inclusion website for details.
Racial Healing Circle (6–7:30 p.m.)
Visit the Office for Health Equity, Diversity, and Inclusion website for details.
Thursday, May 20
Mentorship and Networking Panel (10–11 a.m.)
A conversation about various networking/mentoring programs panelists are involved with, programs that they find/found helpful, and especially, how these programs have helped them build and maintain their career at UC Davis.
Petting Zoo(m)! (Noon–1 p.m.)
It is time to take a break and show off your furry, feathered, or scaly co-worker! Join Staff Assembly for our Petting Zoo(m). We want to meet everyone's at home companions.
Friday, May 21
Drawing Class with the Art Club (3–4 p.m.)
Beginners instructor-led drawing of plants and flowers by the UC Davis Student Art Club. Open to artists and non-artists alike, and family-friendly.