Zishan Mustafa
Zishan Mustafa
Executive Assistant Dean, Health Sciences Finance and Administration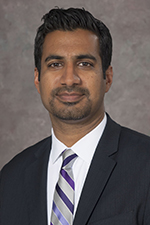 Zishan Mustafa is the Executive Assistant Dean for Health Sciences Finance and Administration at the University of California, Davis. Health Sciences includes both the UC Davis School of Medicine and the Betty Irene Moore School of Nursing. Reporting to the Deans, Zishan is responsible for the schools' financial, operations and administrative functions. He is also responsible for deploying resources to ensure proper operations and administrative systems are in place to foster the organization's growth, strategy, efficiency and financial strength with an annual operating budget of $800M+.
Currently, this position oversees 19 clinical departments, six basic-science departments, eight centers, and a Practice Management Group. This position is also the lead in recruitment and negotiations for Department Chairs, Center Directors, Deans and Chief Administrative Officers, along with setting their annual compensation. Chief Administrative officers have a dotted-line reporting to this position.
Prior to joining UC Davis in June 2016, Zishan spent 16 years at John Hopkins Medicine with experience in several divisions of Johns Hopkins Medical Institutions, including Central Finance, Supply Chain, International Medicine, Operations, and the Departments of Neurosurgery, Neurology, Radiology, and Physical Medicine and Rehabilitation. His most current position was the Director of Finance and Operations for Johns Hopkins Medicine Supply Chain. Prior to that he worked for Johns Hopkins International and resided with his family in Kuwait for a year.
Zishan received his Master's in Health Administration from George Washington University in Washington, D.C., and his Bachelors of Science in Public Health from University of North Carolina at Chapel Hill.