Angela Haczku, M.D., Ph.D.
Angela Haczku, M.D., Ph.D.
Associate Dean for Translational Research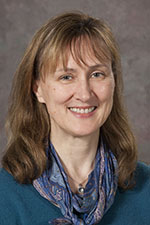 Angela Haczku, M.D., Ph.D., was appointed Associate Dean for Translational Research for the School of Medicine in July 2019. She is a professor of medicine, Director of the Lung Biology Center, and has served as Interim Associate Dean of Translational Research for the past two years.
Haczku came to UC Davis from the University of Pennsylvania, where she held a dual faculty appointment between the Pulmonary, Allergy and Critical Care Division, Department of Medicine and the Department of Pharmacology. She was originally trained in internal and pulmonary medicine (University of Debrecen, Hungary) and obtained a Ph.D. (Imperial College, University of London, UK) and post-doctoral training (National Jewish Medical and Research Center, University of Colorado, Denver, CO) in allergy and clinical immunology.
Haczku is an internationally recognized expert in pulmonary immunology. Her research is focused on the effects of environmental exposures (air pollution, cigarette smoke and psychosocial stress) on respiratory health and disease. She authored nearly 100 peer-reviewed papers, has been federally funded for the past 15 years and has received numerous awards, such as the Parker B Francis Pulmonary Fellowship, MRC (Canada) Fellowship Award and American Lung Association (ALA) Career Investigator Award. She holds the Chester Robbins Endowment for Pulmonary Research.
Haczku is a Fellow of the American Academy of Asthma, Allergy and Immunology (AAAAI), and is an inducted member of the Collegium Internationale Allergologicum. She has served on expert panels of the American Lung Association, American Thoracic Society (ATS), National Institutes of Health, Veterans Health Administration and numerous European and global agencies.
Haczku is the elected Secretary of the AAAAI Mechanisms of Allergy and Immunology Interest Section and was the elected Chair of the ATS Allergy and Immunology Program Committee. She has been associate editor of Respiratory Research; Allergy; and International Archives of Allergy and Immunology; and serves on the editorial boards of Journal of Allergy and Clinical Immunology, the American Journal of Respiratory Cell and Molecular Biology, and the American Journal of Physiology, among others. She has trained numerous undergraduate and graduate students and postdoctoral and clinical fellows, who remain in research positions all over the world; several are full professors directing their own research programs.
Haczku's role is to foster the involvement of trainees and junior investigators in translational research; to create better opportunities for Ph.D. and M.D. researchers to interact and learn across the UC Davis campus; and to promote the School of Medicine mission of integrating basic and mechanistic science with clinical research.