Ekta Vyas, Ph.D., M.S., SHRM-SCP
Ekta Vyas, Ph.D., M.S., SHRM-SCP
Deputy Chief Human Resources Officer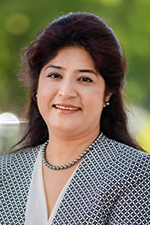 Ekta Vyas is the Deputy Chief Human Resources Officer at UC Davis Health. Her background includes 25 years of progressive consulting and leadership experience in human resources strategy and operations spanning across multiple human resources functions including talent management, compensation, performance management, employee and labor relations, HR technology, organizational development and training, workforce analytics, and diversity and inclusion.
Vyas joined UC Davis Health in May 2020 after 14 years with Stanford Healthcare and Stanford Children's Health. Most recently, she served as the Executive Director, Human Resources for Lucile Packard Children's Hospital Stanford. Her prior experience includes HR lead role with San Jose State University, and HR/OD consultant work with focus on organizational design, OD needs assessment and interventions, and employee engagement. Vyas' doctoral research focused on examining the association between health care leader's emotional intelligence and staff's work engagement during transformational change.
Vyas is also an adjunct management faculty member at the San Jose State University College of Business, an IHRIM Board of Directors member as well as an elected member of Forbes HR Council, Society for Industrial/Organizational Psychology, and Academy of Management. She has a B.A. in psychology, English Literature and philosophy; a terminal master's in industrial/organizational psychology; and a doctorate in organization and management. She is a certified Strategic HR Practitioner from Cornell, Strategic HRBP and Human Capital Strategist, a SHRM-SCP, and certified emotional intelligence and personal brand assessor and coach.
Vyas regularly speaks at conferences and has been published in academic and practitioner journals.