Fred Meyers, M.D., M.A.C.P.
Associate Dean, Precision Medicine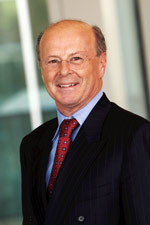 Fred Meyers is associate dean for precision medicine and professor of internal medicine / hematology-oncology at UC Davis School of Medicine. He has served UC Davis as chief of hematology-oncology, chair of the Department of Internal Medicine and vice dean of the School of Medicine.
Meyers has a long-standing interest in cancer biology, with a focus on advanced and metastatic malignancies. His earliest publications in the molecular oncology of urologic cancers emphasized clinical trials with laboratory correlative studies. He recognized the inherent ethical conflict between early-phase cancer clinical trials and the need to deliver palliative and end-of-life care. Many of his early grants and publications highlighted this apparent paradox that he resolved by developing a model of simultaneous or concurrent care. The systems-based improvement of cancer-care delivery integrated cancer therapy and palliative care at the same time, rather than sequentially, and changed the paradigm of the care of patients with both advanced malignancy and nonmalignant illnesses, successfully introducing palliative care earlier in the trajectory of illness. This forms the basis for his ongoing commitment to quality of care improvement, and he has long been an advocate for integrating QI into health sciences education.
Meyers is strongly committed to the career development of junior scholars, MD and PhD, pre-and postdoctoral. He directs the Research Education and Career Development core of the UC Davis NIH-funded Clinical Translational Science Center (CTSC). His commitment is reflected in his service as principal investigator of several training grants including the CTSC Mentored Clinical Research Training Program, a California stem cell research training grant and a grant from HHMI Integrating Medicine into Basic Sciences. He is PI of the UC Davis NIH Common Fund Broadening Experiences in Scientific Training (BEST) award. His current focus is leading and integrating precision medicine across all of the colleges and schools at UC Davis and the communities it serves.