Expertise and kindness defy odds in long, precarious fight against COVID-19
Health care worker unconscious, on life support for many weeks goes home to his family
(SACRAMENTO)
Ajay Randhawa is a respiratory therapist in Marysville. He's highly trained in using personal protective gear and caring for extremely contagious patients.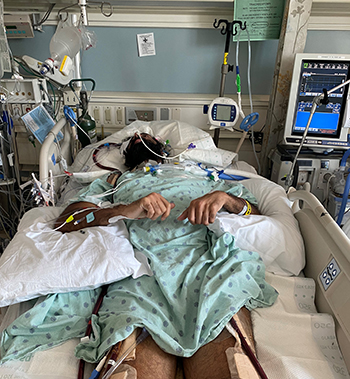 But one unlucky exposure to a patient who falsely tested negative for COVID-19 jolted him down a dark, months-long, precarious road he barely survived.
Ajay's complex treatment at UC Davis Health lasted more than two months and he spent all but one week of that time in intensive care. For more than three weeks, he was unconscious on life support. His survival beat long odds and is still celebrated by the scores of people across the multiple UC Davis Medical Center units who helped keep him alive.
"The doctors and nurses and everyone at UC Davis Health are angels in the flesh," Randhawa said. "They brought me back and saved my life. They were by my side and my family's side the whole time. I don't know how to say thank you enough."
Hugh Black, a UC Davis Health clinical professor and pulmonologist, and one of the many people involved with Ajay's care, said everyone got a special lift from his happy outcome.
"He was the guy, when you came into the room, who gave you a thumbs up when it didn't look possible," Black said. "He was breathing through a tube and tethered to a circuit. He had been through so much, yet he was trying to cheer us up. We were all so thrilled things turned out well."
Ajay's story is a tale of skilled care, his own perseverance, and as he says, being in the right hospital with kind experts. He also knows that many COVID-19 patients like him don't survive.
"I took COVID-19 very seriously," Ajay said. "We've seen the worst of the worst cases and it's horrible for them. I became one of those patients I had been trying to help."
The risks health care works endure daily
"Take COVID-19 very seriously. I was healthy and fit, yet the virus still destroyed my lungs."
— Ajay Randhawa
His exposure came in early December on the job at Adventist Health and Rideout Hospital where Ajay and his team have cared for numerous COVID-19 patients. This day, his patient had falsely tested negative (and soon after would test positive).
Ajay was wearing full PPE and using a nebulizer, which had the patient breathing heavily in and out through his mouth to take in misted medication. They were together about 45 minutes.
"It shows the risks health care workers have been taking," Ajay said.
A few days later, Ajay's health plummeted.
It started with migraines and body aches. Within days, he had trouble breathing. On Dec. 15, after developing nausea, his wife, Charanjit Pooni, drove him to the UC Davis Medical Center. He was quickly put into intensive care.
"My lungs were already seriously damaged," Ajay said. "On an X-ray, healthy lungs look black. Mine were completely white. There was no room for air to move. I knew I was in trouble and if I was intubated, I might not make it."
"Ajay understood what was happening to him," Black said. "He had taken care of patients like him and he knew what might be in store. But he never demanded anything."
A large team worked hard to keep Ajay breathing with supplemental oxygen. He struggled for nearly three weeks to breathe on his own, but he didn't improve.
In early January, he was put on a ventilator.
"Richart Harper (a UC Davis Health professor and pulmonary and critical care specialist) had been one of my lead doctors," Ajay said. "I asked him to intubate me. I knew my life was at risk. Richart made me feel calm and reassured that I was going to be OK."
Emergency life support under watchful eyes
That wasn't enough. A ventilator pushes air into the lungs and allows them to passively exhale. But Ajay's lungs didn't function. They couldn't get the oxygen into his blood and remove carbon dioxide.
The next day, he was on an ECMO machine – it stands for extracorporeal membrane oxygenation. It took blood out of Ajay's body, oxygenated it and removed the CO2 with a membrane lung, then returned it to his blood vessels.
ECMO is often used to keep people alive who are waiting for a lung transplant. The survival rate in a situation like Ajay's is less than 50%. It requires a cardiothoracic surgeon to insert and connect the tubes that are wider than a pencil.
Bob Kiaii, UC Davis Health professor and chief of cardiothoracic surgery, handled the procedure. A number of people in the cardiothoracic unit kept watch. So did the pediatric ICU group (which helped originate the use of ECMO at UC Davis Health), led by Stephanie Mateev, UC Davis Health clinical professor and medical director of the pediatric ICU. Dozens of others also helped keep Ajay alive while he was unconscious and on life support.
"He was breathing through a tube and tethered to a circuit. He had been through so much, yet he was trying to cheer us up."
— Hugh Black
"There were so many doctors and nurses fighting for me when I was unconscious. I had no idea," Ajay said. "My family told me later. Everyone was so good to my wife and my sister. They couldn't visit because of COVID restrictions."
Slowly, his medical team beat back the COVID-19. After 23 days, he was taken off ECMO near the end of January. He had been unconscious until nearly the end of January.
Hard steps aided by kindness
"When I woke up, people were telling me it's Super Bowl week. I was like, wait, what?" Ajay said. "I learned that so many people in the ICU were at my bedside through it all. They made me their family."
He was still in precarious shape. Ajay spent more time on the ventilator. He had to learn to breathe again. He had to learn to move again. He went through withdrawal as his body struggled to clear the sedation and pain drugs from his system.
"When I woke up … I learned that so many people in the ICU were at my bedside through it all. They made me their family."
— Ajay Randhawa
"We deal with anxious patients and I know how difficult that can be for the care teams," Ajay said. "I tried to stay calm, but what was crazy was that I became that anxious patient because of all the fear and struggles. Yet, everyone was so good and calm. My intensive care nurses and cardiothoracic care nurses were there almost before I needed them. They helped me so much."
When patients have been immobile in bed for so long, they have to build back the strength just to sit up, then to stay up, then to move to a chair, then eventually walk. That takes hard physical therapy.
"I couldn't sit on the side of the bed without folding," Ajay said. "My physical therapist was so great. I would do 10% of the work to stand up. He'd be sweating to hold me and he'd say, 'That's all you.'"
On Feb. 8, Ajay left the ICU and moved to inpatient rehab with the Physical Medicine and Rehabilitation Department. Six days later, he left the medical center and went home.
Climbing a steep uphill with gentle pushes
Ajay still has a long, long way to go. He is still weak and deals with insomnia, tremors, heartrate jumps, vertigo, hair loss and more. He is going to physical and pulmonary rehab regularly and working hard under the watchful eyes of more specialists from the UC Davis team.
"Take COVID-19 very seriously," Ajay said. "I was healthy and fit, yet the virus still destroyed my lungs. But I know what was saved. I might not have my old life back, but so many people gave me a second life. They helped me to see my wife and daughter, Asa, again."
Black has seen Ajay in the pulmonary rehab clinic. "He's doing great," Black said. "I sent around a picture of Ajay. It's been such a hard year on us all. Everyone is so happy to get this win. People are so happy for him. When they saw the picture, people were crying."
"When things started to get really bad," Ajay said, "I promised my wife I would be home on Valentine's Day. After two months, I worked so hard to show I could deal with this at home. I came home on Feb. 13."