Nexplanon birth control study seeks participants
(SACRAMENTO)
UC Davis Health is now enrolling women in a new study to extend Nexplanon's use to five years. Nexplanon is a contraceptive implant that is inserted under the skin of the upper arm to provide birth control. The implant is currently approved for three years of use.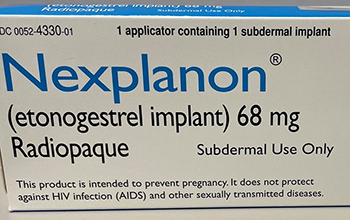 "This study will be an incredible benefit to women. The contraceptive implant is the most effective reversible method for preventing pregnancy," said Mitchell Creinin, family planning director at UC Davis Health. "Extending the duration of use to five years allows users to require fewer procedures over time and to have control over if and when they become pregnant."
Nexplanon is frequently recommended for use up to five years, despite its three-year label. Those recommendations are based on the real-world experiences of many women. Extending duration for the label would allow a single procedure to provide contraception for five instead of three years.
The study is recruiting potential participants using the following criteria:
Currently using Nexplanon for almost 3 years
Desiring to continue using their Nexplanon for up to two more years (five years total)
Sexually active with a male
35 years or younger at enrollment
No weight restrictions
Study participants will require medical visits every three months. Participants will be reimbursed for their participation, up to $825 for the two-year study. Participants do not need to be UC Davis Health patients and they do not need to have medical insurance that is accepted at UC Davis Health.
For more information or to sign up, contact 916-734-6846 or email hs-obgynresearch@ucdavis.edu