School of Medicine lab recognized for safety
"Friday Frenzy" cleanups help Burns-Pugh vision research lab win safety award
(SACRAMENTO)
A laboratory with the School of Medicine has been honored with a UC Davis safety award.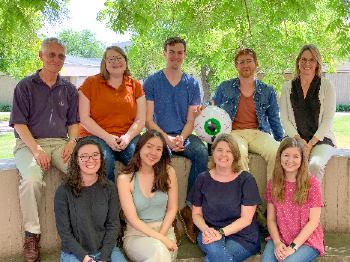 The Burns-Pugh lab, which researches neurodegenerative diseases of the eye, is one of six winners in the inaugural Laboratory Safety Awards program from UC Davis Safety Services.
The awards panel chose a winner from each of the university's four colleges and the School of Medicine and School of Veterinary Medicine.
To see what the culture of safety looks like in the Burns-Pugh lab, show up on a Friday – and be prepared to watch 10 people go into action. Those who work with Principal Investigators Marie Burns and Edward Pugh, studying photoreceptors of the retina, pause what they're doing once a week for "Friday Frenzy" mode.
That's when everybody takes the time to look around the lab to focus on cleaning and safety. Fume hood? Check. Scavenging system? Check. The sharps box? Check.
"When everyone takes just 10 minutes to look around the lab it means it's not a burden on any one person," says lab manager Sarah Karlen, "and it refreshes everyone's mind to look around your environment and make sure it's safe."
But safety doesn't end with Friday Frenzy. The Burns-Pugh lab also has a good reputation for keeping solid documentation up to date and sending everyone to lab safety training annually to review the latest rules.
Also adding to the safety culture: The lab, which belongs to the School of Medicine and is located on the Davis campus, is fortunate to have a breakroom space, which makes complying with the no-food-and-drink rules much easier.
The safety award grand prize this first year was given to Dr. Karen Bales' Lab in the College of Letters and Science. The lab won $5,000 and a year's worth of bragging rights for excellence in safety, based on inspection findings and questionnaires submitted by safety professionals.
Chancellor Gary S. May presented the awards at a recent luncheon. He emphasized the importance of safety as well as his appreciation for the new awards program. He described the recipients as role models for fellow researchers.
"As we all know, laboratories are places of fantastic discovery, but they're not to be taken lightly. Some labs may be working with dangerous pathogens, or noxious fumes or unstable chemicals. From my days as a graduate student in engineering, I learned pretty quickly that it doesn't take much for something to go wrong very quickly in the lab," May said.