Student's journey to medical school includes farmworker, construction jobs
Alex Villegas didn't see himself as a doctor until a mentor motivated him down an unexpected path
(SACRAMENTO)
Alex Villegas worked as a physical therapy aide for more than a year after graduating from UC Davis, unsure how to make the most of his hard-earned biology degree. Then one day, his boss summoned him into the office.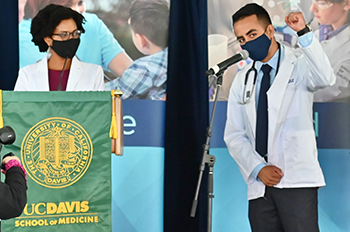 The manager was concerned that Villegas, who is highly empathetic to patients and savvy about musculoskeletal health, wasn't living up to his career potential. He wanted to know what Villegas saw himself doing in five years.
Villegas, unprepared for the question, blurted out that he was considering going back to school for physical therapy. But the manager, Edgar Villanueva, had another vision: "I looked him straight in the eye and said, 'you should not be a physical therapist, you should be a doctor.'"
That conversation in 2017 propelled Villegas on a new journey – one that brought him to the UC Davis School of Medicine where he started classes this month as a first-year medical student.
His path to Sacramento has been an unconventional one.
Along the way, Villegas worked in construction, labored as a farmworker and was first in his extended Mexican-immigrant family to complete high school. Lately, he has dedicated quality time to being with his father who is on hospice care with cancer. The experience has reinforced his decision to study medicine.
"My path toward medical school has been everything but a straight line," Villegas said. "Initially, I couldn't believe I had gotten accepted, and I got really emotional, because of all the sacrifices my parents had done to get me to this point."
Work ethic instilled at an early age
Villegas, 28, was born in Modesto, the oldest of three boys. The family moved to Turlock, where the kids spent weekends operating power tools with their dad, a farmworker and truck driver who supplemented his income by repairing homes.
"Work was my dad's way of showing me the value of what he calls 'ganas,' or the desire to succeed," Villegas said.
Whenever Villegas contemplated his future, college was never in the picture, not even in a thought bubble. His parents had cut short their own schooling by the seventh grade in the rural Mexican state of Michoacán, and nobody in the family, including aunts, uncles and cousins, had ever been to college.
Villegas was a bookworm. His family called him el estudioso, the studious one.
At Turlock High School, teachers steered Villegas into AVID, short for Advancement Via Individual Determination, a school-based organization that provides college track resources for students from diverse and underrepresented demographic groups.
Following his junior year, Villegas sought summer work at McDonalds and Taco Bell to earn money to pay for college applications, but got rejected. Instead, he took a job as a farmworker picking blueberries, onions and chili peppers.
His parents tried to talk him out of agricultural work. Deep inside, though, he had a personal reason for wanting to work in the fields: "Part of me wanted to see the work that my parents did, to know what they've gone through."
On his first day in a Stanislaus County field, Villegas earned just $26 in a seven-hour shift. The job paid by the quantity of crops he picked instead of a minimum wage.
He empathized with coworkers who suffered from pesticide-related medical issues, no health insurance, lack of transportation and low wages.
"At the time I didn't know I wanted to be a doctor," Villegas said, "but I knew I had to do something for my community."
Deciding to study at UC Davis
During his senior year, Villegas received a generous scholarship from California State University, Stanislaus. He chose UC Davis instead for its strong reputation in science education. In doing so, he became the first student from Turlock High's AVID program to attend a University of California school.
"My path towards medical school has been everything but a straight line. Initially, I couldn't believe I had gotten accepted, and I got really emotional, because of all the sacrifices my parents had done to get me to this point."
— Alex Villegas
Moving 100 miles to Davis was bittersweet. He would pursue a higher education, yet far from his father, his role model. Villegas apologized to his dad for no longer being able to help with construction jobs. He recalled how his father put his arm around him and said everything would be fine and encouraged his son to study hard, despite the distance between them.
"Something my dad told me that kind of stuck to me is that to keep growing as a person, you have to take risks and step out of your comfort zone," Villegas said. "Like when my parents came from Mexico."
Villegas taught his parents how to text, then left for college.
At UC Davis, he took science courses and worked in research for Chicana/o Studies, surveying the needs of farmworkers. On weekends, he volunteered in the Knights Landing One Health Center, a student-run clinic that provides free health care in rural Yolo County.
At one point he thought about a career in medicine, but the goal seemed unattainable.
Villegas graduated in 2016, debt free, thanks to federal and state grants, and gravitated back home. He took the job as an entry-level physical therapy aide in the hospital where he was born, Doctor's Medical Center in Modesto.
He loved every aspect of patient care and didn't really aspire to a higher career goal. But that one heart-to-heart conversation with his manager motivated Villegas to realize the potential others saw in him.
"Ultimately, my boss wanted whatever I would be happy with, whether that was physical therapy or medical school, but he always encouraged me to reach for the stars and not give up on my initial aspirations."
Villegas gave serious thought to studying medicine.
Eventually, he enrolled in the UC Davis yearlong Postbaccalaureate Program. The well-regarded program, heavy on science curriculum, also offers study tips and test-taking strategies for college graduates who want to apply to medical school.
Afterward, Villegas returned to Modesto and to his therapy aide job, while also studying for the Medical College Admissions Test. He took a leadership role in MiMentor, an organization that supports students from diverse backgrounds to become health professionals.
Tragedy prompts him to rethink medical school
Then tragedy struck the family: His father was diagnosed with liver cancer.
Villegas drove his dad from one specialist to another while debating whether to apply to medical school or wait until later. "I wanted to be around my family," he said.
He discussed his dilemma with his parents. His father, as usual, encouraged Villegas to continue pursuing his goals. And his supportive brothers promised to look after their dad. Villegas then decided to apply.
On Dec. 15, 2020, Villegas received an unforgettable phone call from an unknown 916 number that flashed on his cell phone screen. It was Charlene Green, the UC Davis School of Medicine admissions director.
Villegas was one of nearly 10,000 students who applied to the school. Suddenly, he was one of only 132 who would enroll.
"I just froze," Villegas recalled of his conversation with Green. "I didn't say anything for maybe 10 seconds, a good 15 seconds." Villegas couldn't believe he had been accepted, but soon realized it was affirmation for his hard work. "I am worthy of being a medical student."
Not only did he get into the UC Davis School of Medicine, and had offers from other schools, but Villegas also gained acceptance into a competitive academic track. REACH (Reimagining Education to Advance Central California Health) tailors medical education to UC Davis students who desire to practice in the Central Valley, one of the state's most medically underserved areas.
"I look forward to Alex becoming a physician, returning to California's Central Valley and caring for a diverse and underserved patient population," said Olivia Campa, an internal medicine physician and director of the post-bacc program, where she was a mentor to Villegas. "I am so proud Alex is well on his way to becoming an excellent physician and truly represents the values of our institution."
This past spring, Villegas learned about the medical school's upcoming induction ceremony, a meaningful event where first-year students receive their white coats and stethoscopes. Villegas envisioned his mom and dad in the audience.
But his dad's health was deteriorating. "It got me thinking whether he would be able to attend my white coat ceremony," Villegas said. "That's something I really wanted to share with him."
Villegas reached out to Green and explained his situation. He asked if he could borrow a white coat to hold his own ceremony at home.
A special induction ceremony
Green enlisted other medical school staff and faculty members and mailed a box to Villegas containing a white coat. The school also sent personalized video greetings from key faculty members, in English and Spanish, which allowed Villegas to hold his own ceremony with his father in late May. "It was a very emotional moment for me," recalled Villegas, whose girlfriend videotaped the ceremony.
It was perhaps even more special for his father.
"I feel so proud because he's accomplished all this, despite the difficulties we've been through," his father, Joe Villegas, said. "He gave it a lot of ganas, a lot of ganas," the father repeated, for emphasis. "We were so happy to put the white coat on him."
As it turned out, the school's induction was an in-person event only for students; families had to watch from home because of the pandemic.
On that morning, July 31, Villegas walked up to the stage, received his stethoscope from Associate Dean for Students Sharad Jain and headed to the microphone to address his family watching via Facebook.
With his hands clasped together, he said in Spanish, "I'd like to thank my parents for all their support, my brothers and my partner, and to all my mentors who have been supporting and guiding me during this entire journey." He then looked at the audience and proclaimed, "Go Ags!" and pumped his left fist into the air.
Following the ceremony, Villegas drove to Turlock to celebrate with his father and the rest of the family.